Our biweekly guessing game!
Whatever draws us into the forest—be it birdwatching or logging, hiking or hunting—all of us are unified by the sense of wonder we feel in the outdoors. The forests, fields, and streams of our region are full of mystery, and if you stop and look closely, you'll see all sorts of oddities.
Below find a picture of one such woodlands curio. Guess what it is and you'll be eligible to win a Season's Main Events Day Calendar. A prize winner will be drawn at random from all the correct entries. The correct answer, and the winner's name, will appear when the next column is posted.
This Week's Entry: Divine Design
This winding vine, bedecked with puffballs of silky filaments, was found throughout a roadside thicket. What is it?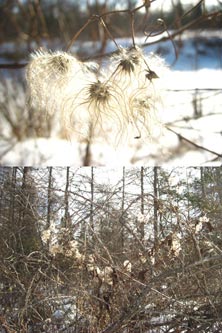 Answer
Virgin's Bower.
This winding vine is virgin's bower (Clematis virginiana) from the buttercup family. It flowers from July to September, and sports puffy seed clusters throughout the winter. Find virgin's bower – nicknamed devil's darning needles – in wood edges, thickets, and along streambanks.
This week's winner is Eric Ellis, who wrote that clematis is a "pretty tough plant that deer don't seem to bother much," with "pretty white flowers" that are a "good source of late-season nectar" for pollinators. Thanks for the extra info, Eric!
This week's contest winner was Eric Ellis of Traverse City, MI