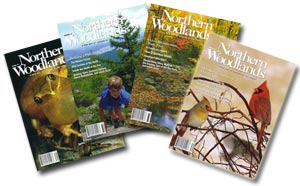 February 2019 Important Update
We are beta-testing a new online subscription management platform. Please follow the links below to subscribe, give a gift, renew, or update your address.
If you experience difficulty we are available to receive your order calls M-F, 8:00 - 4:00 EST. Toll-free: (800) 290-5232 or direct: (603) 795-0660.
You can mail orders to:
Northern Woodlands Subscriptions
16 On the Common; POB 270
Lyme, NH 03768
Thank you for your patience while we improve our community's ordering experience.
Warmly,
Northern Woodlands Circulation Staff
---
Domestic Rates*
1 year for $23.00
2 years for $42.00
3 years for $59.00
International Rates - Add $8.50 extra per year. Non-domestic orders must be paid by credit card in US dollars.
ATTENTION
If you are renewing or managing your account, please complete this temporary step while we complete our transition.
After clicking Renew Your Subscription or Manage Your Account, you will be asked for your account number and zip code. DISREGARD THIS and click: "Don't know your account number?"
Enter your email address to receive your new account number and proceed to renew or manage your subscription.
*Mandatory sales tax for the following states will be added to the base rate. If ordering with a check by mail, please include:
Vermont: 6% sales tax
Maine: 5.5% sales tax