Our biweekly guessing game!
Whatever draws us into the forest—be it birdwatching or logging, hiking or hunting—all of us are unified by the sense of wonder we feel in the outdoors. The forests, fields, and streams of our region are full of mystery, and if you stop and look closely, you'll see all sorts of oddities.
Below find a picture of one such woodlands curio. Guess what it is and you'll be eligible to win a Season's Main Events Day Calendar. A prize winner will be drawn at random from all the correct entries. The correct answer, and the winner's name, will appear when the next column is posted.
This Week's Entry: Boggling Barrowfull
A wheelbarrow full of small chunks generated while working up a load of log-length firewood. This byproduct probably wouldn't have existed 10 years ago. What are they and what changed?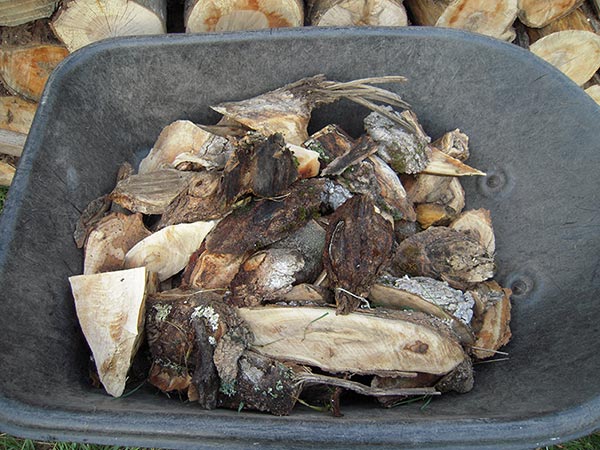 Answer
The homeowner removed these nubs when processing his log-length firewood. They had been left on the logs because it had been limbed by a feller-buncher. Feller-buncher saws don't always cut as flush as a logger can when limbing trees with a chainsaw. This is particularly true on low-grade/low-value logs because processing time/effort is more of a concern and firewood buyers have lower standards than sawlog mills.
This week's contest winner was George Thomas