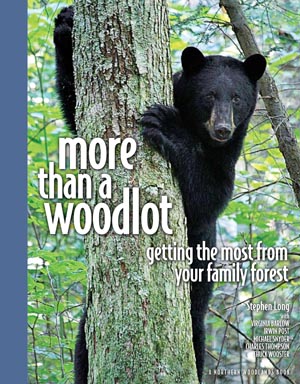 A new forestry has taken hold across the northeast.
Many forest owners want to take a more ecological approach to managing their woods, and they feel right at home with a more natural forestry that's focused on the forest and not just the trees.
If you've ever wondered how to make the right choices for the woods that mean so much to you, More Than a Woodlot will guide you. Stephen Long explains complex ecological and forestry concepts in clear language and shows you how to get started.
You will discover:
how to sell timber today while increasing your forest's long-term value.
how to evaluate — and improve — habitat for songbirds and other wildlife.
what to look for in a forester and a logger.
ways to increase biodiversity in your woods.
the ecological and productive path to stewardship.
Whether you want to cut your annual firewood, see more wildlife, protect special places, sell timber, or plan for the future of your land, this book will be your trusty guide.
Learn more by listening to Stephen's interview on To the Best of Our Knowledge!
What people are saying about this book:
I've already given two as gifts, but I keep thinking of more people who I really want to read this book. People who think cutting any tree at all is sacrilege, people who think a forest management plan is just a list of trees to cut. Even if they don't actually read the book, but only flip a few pages and read the captions to the illustrations, I think the book will help them begin to realize that not all cutting is bad, that they can actually make their forests more wildlife-friendly by taking action, and that by undertaking well-planned tree harvesting on lands of their vacation homes they can help support an agrarian lifestyle in the northeast. What does the blurb on the back say? (My copy is in my husband's briefcase right now, on a business trip to LA.) "A new form of forestry is taking hold in the Northeast." That's what I hope my giftees will learn from this book.—Diana Todd, Northern Woodlands subscriber
Steve Long has written the indispensable primer on what every owner of a family forest ought to know, from silviculture to taxes to estate planning, and he's written it as Edmund Wilson admonished us all to write: with lucidity, force, and ease. Read it now so you won't have to weep over your mistakes later.—Robert Kimber, author of Upcountry
This refreshingly honest book has all the practical information you might want about timber cruising, insects, silviculture, harvest contracts, and taxation, as well as coverage of trusts, easements, and estate planning. It is written in the wonderful tone and style that we have all grown to love about Northern Woodlands. But the best part of the book is not its facts or style, but its philosophy that quietly seems to run through every page. Letting nature take its course is just fine, but those who are more actively engaged with their woods will realize rewards of learning, entertainment, and satisfaction.—David Kittredge, professor and extension forester, UMass-Amherst
I found More Than a Woodlot to be at once timely, practical, inspiring, and fun to read. In short, it manifests all the virtues that have also made the magazine Northern Woodlands such an important resource for those hoping to be good stewards of our region's forests. I feel grateful to Stephen Long and his co-authors for the ways in which their book has enhanced my own knowledge of the woods as well as for its promise to shape more informed and constructive public policies.—John Elder, professor emeritus at Middlebury College and author of Reading the Mountains of Home
It's real good – a Trevi Fountain of artesian information.—Edward Hoagland, essayist and author of Walking the Dead Diamond River
I have been hoping for a single unified text that woodland owners can use to establish their foundation of knowledge. Stephen Long and his co-authors have created just this product. Our woodlands will be better because of this book.—Peter Smallidge, New York state extension forester
The Northeast and its million and a half forest landowners need this book and will benefit greatly from its insights. Each of us who owns a small piece of this vast forested region has challenging decisions to make concerning conservation and management and our collective actions will largely determine the fate of one of America's most intact and majestic landscapes.—David Foster, Director of the Harvard Forest, Harvard University
More Than a Woodlot skillfully explains the inner workings of our forests, big and little, and reveals in ordinary language the synergistic roles that landowner, forester, logger, and financial professional all play in its long-term stewardship. With his typically clear, precise, and personable writing, Steve Long gives landowners not only a valuable step-by-step guide but an education of the finest kind.—Charles Johnson, author of The Nature of Vermont
More Than a Woodlot is an accessible, engaging, comprehensive guide that will help any woodland owner understand the many facets of forest management. Stephen Long gives sound advice on how to sustainably manage for wood products, and then delves much deeper. At its core, this guide is focused on promoting the well-being of the entire forest ecosystem and all of its inhabitants.—Tom Wessels, author of Reading the Forested Landscape
About the Author
Stephen Long is a family forest owner who manages ninety-five acres in central Vermont. In his seventeen years as editor of Northern Woodlands magazine, he wrote hundreds of columns, features, and editorials. He's won awards from loggers, foresters, and botanists for his ability to make the art and science of forestry accessible to wide audiences.
About the Publisher
Northern Woodlands is a not-for-profit organization based in Corinth, Vermont. It publishes books, columns, landowner guides, and its award-winning quarterly magazine, Northern Woodlands.