Our biweekly guessing game!
Whatever draws us into the forest—be it birdwatching or logging, hiking or hunting—all of us are unified by the sense of wonder we feel in the outdoors. The forests, fields, and streams of our region are full of mystery, and if you stop and look closely, you'll see all sorts of oddities.
Below find a picture of one such woodlands curio. Guess what it is and you'll be eligible to win a Season's Main Events Day Calendar. A prize winner will be drawn at random from all the correct entries. The correct answer, and the winner's name, will appear when the next column is posted.
This Week's Entry: Who Lives Here?
Naturalist Mary Holland shared this wonderful picture with us…yup, it's an animal den site. But what kind of animal?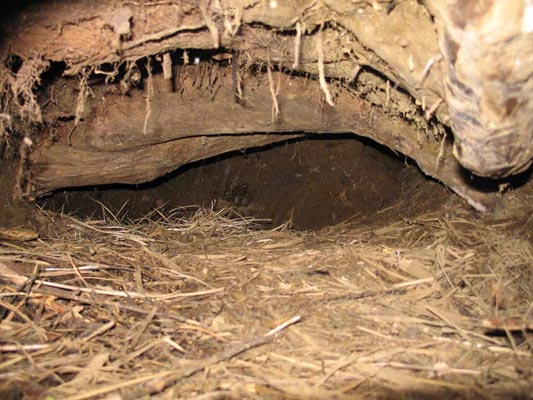 Answer
This is the inside of a beaver lodge.
When colonizing a new site, beaver(s) create bank holes that serve as rudimentary burrows. By piling sticks around the entrance of the hole, they'll turn the burrow into a bank lodge – think of it as a starter home. Once established at a given site, they'll often build a freestanding lodge that's surrounded by water and thus safe from most predators, although sometimes ambitious nature photographers find a way in.
Thanks to naturalist/author Mary Holland for sharing this great shot. You can check out more of Mary's nature photos on her blog: http://naturallycuriouswithmaryholland.wordpress.com/
This week's contest winner was Ernest Clifford of Crown Point, New York. We only had 1 correct answer!