Owning just a single choker chain is a lot like having one Crescent wrench in your toolbox. Sure, you can get the job done, but it would be a lot more efficient (and enjoyable) if you had a set of different wrenches that allowed you to pick the exact size needed for the task at hand.
My collection of choker chains includes options that range from four to ten feet in length. All have a slip or choker- hook on one end, with the opposite end sporting a grab-hook or log-probe. The hooks all correspond to the size of the chain, with 1/4-inch, 5/16-inch, and 3/8-inch being the most common. Chain can be purchased in different sizes, but also in different grades that correspond to their strength. Grade-70 chain, also known as transportation chain, is standard in the forest industry. If you're skidding relatively small wood with horses, an ATV, or a small tractor, 1/4-inch or 5/16-inch grade-43 chain (high test) may be sufficient.
Smaller chains represent a tradeoff between strength and weight.
I generally select the smallest diameter and shortest chain that will get the job done safely. In making this selection, I'm able to reduce fatigue by not carrying unnecessary weight. My favorite chokers all have log-probes on the end, allowing me to thread the chain under the log easily. This is particularly handy on snow-covered or soft ground.
While you can buy preassembled choker chains, your options likely will be limited to standard lengths and grades. By making your own choker chains, you can select chain sizes, grades, and lengths that match the equipment you'll be using and different sizes of wood you'll be skidding. You'll also be able to match the size of each chain with an appropriately sized slip or choker-hook. The only other component needed is a length of 1/4-inch steel rod to make the log-probe [1], which remains roughly the same regardless of the size and grade of chain or hook used.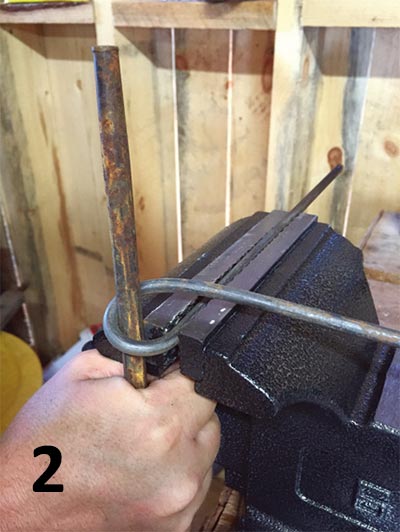 To make the log-probe, clamp about 10 inches of the rod horizontally in a bench vice. Next, hold a round 1/2-inch bar vertically next to the vice jaw and bend the rod around the vertical bar 360 degrees [2]. While at the vice, you may also choose to add a slight bend to your log probe to make it easier to fish under the log.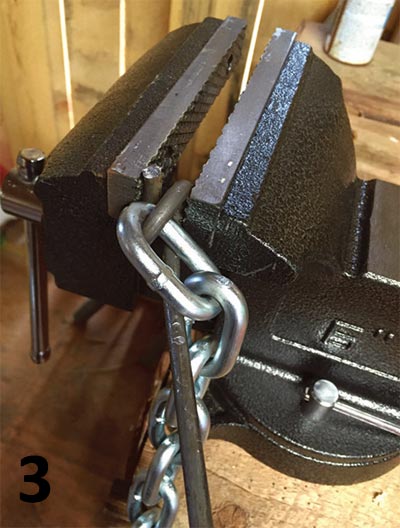 At this point, you'll be able to thread the chain onto the eye before clamping the eye shut in the vice [3].
On the opposite end of the chain, attach the slip or choker-hook. Most choker-hooks have a roll-pin that will have to be driven flush with a hammer [4]. The total cost for making this eight-foot, 5/16-inch choker chain was $26.00 and about 15 minutes of labor [5].
Brett R. McLeod is an associate professor of forestry and natural resources at Paul Smith's College and the author of The Woodland Homestead: How to Make Your Land More Productive and Live More Self-Sufficiently in the Woods (Storey Publishing, 2015).