Photo courtesy of Biomass Energy Resource Center
Like a forest fire that appears to be contained before exploding into an inferno, biomass has gone from being a topic of interest primarily to foresters and energy experts to one that can draw hundreds of citizens, many with competing views, to public meetings and online forums. Massachusetts, where government officials are studying the implications of biomass before permitting any more power plants, is at the center of the blaze, whose flames have been fanned by competing and contradictory reports. Several studies promote biomass as a great opportunity for kicking the fossil habit, but the one grabbing headlines suggests that burning biomass can be worse than burning coal.
In energy circles, biomass means burning plants for energy. Here in the Northeast, that means burning wood: cordwood for the stove, pellets for the furnace, or chips for the local school or power plant. Most of this wood comes from our forests, but some comes from building demolition, landscaping debris, and suburban tree pruning. Still more of it could come from trees planted deliberately on agricultural lands.
Advocates for biomass energy in the Northeast see wood as a renewable resource that can be burned cleanly and efficiently while reducing global warming emissions, freeing ourselves from the uncertainty of the global fossil fuel market, and keeping billions of dollars here in the Northeast's economy. As an added bonus, advocates believe that a robust market for biomass would strengthen land conservation by providing an income stream for forest landowners, allowing them to practice better forestry and resist the temptation to sell out to development. At the end of the day, advocates see cleaner fuel, healthier forests, and a stronger economy.
Biomass skeptics dispute many aspects of this vision. They cite the study commissioned by Massachusetts and conducted by the Manomet Center for Conservation Sciences, which suggested that under some circumstances, burning wood does nothing to combat global warming. Many skeptics also fear the results of a forest-products industry turned loose on the landscape under a biomass gold rush. Wood may be renewable, they argue, but that doesn't change the fact that we have a long track record of using it nonrenewably.
Is it possible to reconcile these two points of view? Is biomass green? If so, is there enough biomass in the Northeast to go around?
Is it green?
The received wisdom is that biomass is an effective weapon in the fight against climate change. When a tree dies, it emits carbon, whether it's burned or just left to rot on the ground, part of what's commonly called the biological carbon cycle. Burning wood is considered carbon-friendly, as long as new trees are allowed to grow and offset the carbon that's released from the trees they're replacing.
Fossil fuels, on the other hand, are never carbon-friendly, as burning them introduces additional carbon into the atmosphere that wasn't part of the biological carbon cycle in the first place. This point of view has been repeatedly emphasized by the Environmental Protection Agency and the United Nations-sponsored International Panel on Climate Change
This received wisdom was stood on its head in May, when the Manomet report, Biomass Sustainability and Carbon Policy Study, was glossed by the media under the Associated Press headline: "Study: Wood Worse Polluter Than Coal." While many aspects of the Manomet report have been less controversial, especially the emphasis on using biomass for thermal energy instead of electricity (to achieve higher efficiencies) and the proposals for tighter harvesting guidelines to ensure sustainability in the woods, the "wood worse than coal" emphasis has been met with incredulity, because it stands the fundamental scientific basis of climate change on its head.
As the report indicates, wood is less energy-dense than fossil fuel, meaning that a chunk of firewood contains less energy than a corresponding chunk of coal, assuming the same number of carbon atoms in both. As a result, more carbon is emitted per BTU or kWh produced.
"People are getting tangled up in this one aspect of carbon that is not key," says Bill Keeton at the University of Vermont's Carbon Dynamics Lab. "It's one big carbon cycle, and the important point is the overall carbon balance: how much is in the atmosphere, how much in the oceans, how much is in marine algae, etc., and how much is being added by fossil fuel."

Research under way by Keeton and his graduate students suggests that greatly expanded biomass harvests could accelerate the rate at which carbon moves between the forest and the atmosphere, resulting in a net addition of carbon to the atmosphere, sort of the way a juggler ends up with proportionally more balls aloft if he speeds up his hands. But these are small considerations in the face of the problem caused by fossil fuel emissions.
The concentration of carbon dioxide in the atmosphere has risen from 275 parts per million (ppm) in the preindustrial age to 390 ppm today. Of that rise, the International Panel on Climate Change estimates that only 15–20 percent has come from the biosphere, primarily from converting forests and open lands to human development. The rest of the increase, which is to say 80–85 percent of the problem, comes from the combustion of fossil fuels. The fact that biomass is not purely carbon-neutral under every circumstance only underscores the fact that fossil fuel is 100 percent carbon-additive under all circumstances.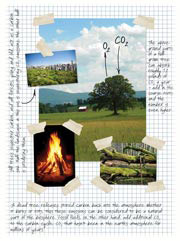 Image courtesy of MBC Design
But what about sustainability?
There is a growing awareness among foresters and biologists of the crucial role played by coarse woody debris in the forest: standing snags, fallen logs, and limbs and tops left behind following a logging job. In short, just the sort of material that's easily chipped for biomass.
The Forest Guild, a national association of foresters dedicated to ecological forestry and a partner in the forest-sustainability chapter of the Manomet report, has addressed this question directly in their recently released Forest Biomass Retention and Harvesting Guidelines for the Northeast. Generally speaking, the guidelines recommend avoiding sensitive sites and old-growth stands, leaving a quarter to a third of all slash on site after a biomass harvest, and maintaining a diverse forest structure with plenty of snags and coarse woody debris distributed across the harvested area.
"But it's very site-specific," points out Bob Perschel of the Forest Guild, adding, "nothing applies to every acre. Soil types are the basis for our recommendations. Some sites are so sensitive that you don't want to harvest there at all. At the other end of the spectrum, on the rich-soil sites, the science shows that if you do leave a certain percentage of the tops and slash, you're going to be okay."
Photo by Jim Block
There's wood in them thar hills. Or is there?
Given that biomass can be green, how much of it might there be in the Northeast? Is there enough biomass to go around, or will we have to denude our hillsides in order to forestall climate change?
The answer to these questions is not straightforward, because we already value our forests for many reasons beyond their capacity to produce biomass.
In theory, our Northeast forests produce roughly 55 million green tons of new growth every year, or an average of one ton (or half a cord) per acre per year on each of our 55 million forested acres. If we burned all of that annual growth – the interest, not the principal – for heating, we would produce roughly 1.40 quadrillion BTUs per year, or enough energy to heat two-thirds of all the houses and businesses in New England and New York.
In reality, only Maine cuts anywhere near its annual tree growth each year: roughly 98 percent, according to the Maine Forest Service. The other Northeast states' percentages of use are 76 for New York, 50 for Vermont, 42 for New Hampshire, 30 for Connecticut, 30 for Rhode Island, and 25 for Massachusetts. And of the acres that are harvested, the majority of the tonnage goes to sawlogs and pulpwood, not biomass energy. In the four Northern Forest states (northern New England and New York), about 25 percent of the harvest these days goes to firewood and chips. Assuming the same percentage for the southern New England states, we are presently consuming about 8 million green tons of wood each year for biomass energy in New England and New York, or about 15 percent of the total annual tree growth.
What do these numbers mean in context? Heating a typical home requires four to five cords of wood per year, which is the equivalent of 8–10 tons of green biomass. A school requires between 200 and 1,000 tons per year, depending on size. Electricity-generating plants use about 10,000 tons per year per rated megawatt at full capacity. The Pinetree station in Fitchburg, Massachusetts, at 17 MW, uses 180,000 tons per year; the 50-MW Schiller station in Portsmouth, New Hampshire, uses 500,000 tons per year at full capacity. How much wood is there in a chip truck headed for one of these plants? Between 20 and 40 tons, or enough to heat several houses for a year or fire Pinetree-Fitchburg for an hour and a half.
But though we are surrounded by forest, not all of it is available for use. Brett Butler, of the U.S. Forest Service's Family Forest Research Center, points out that, by and large, the constraints on biomass harvesting in the Northeast are less physical (steep slopes, wet soils) than they are social (zoning regulations, landowner intentions.) "It's really landowner attitudes that have a huge, huge impact on availability," says Butler. "You can tell a procurement forester that there's wood out there, and they'll tell you, 'Sure, it may be out there, but I can't get to it.'"
Photo by Andrew Crosier
Butler's research focuses on forestland owned by private, nonindustrial, unincorporated owners, which, according to Butler's analysis of Forest Inventory Analysis data, accounts for 55 percent of all the wood growing in the Northeast. (The public owns 25 percent of all the wood, and corporations own the remaining 20 percent.) If you discount physical factors, like trees growing on slopes steeper than 50 percent, on wet soils, on poorly productive sites, or in small stands, you reduce your wood availability from these private lands by about 8 percent. If you discount social factors, such as wood unlikely to be harvested because it's growing on parcels less than 20 acres in size, more than a mile from an existing road, closer than 100 feet to a water body, or in heavily populated areas, you remove another 10 percent. But that still leaves you with more than 80 percent available, until you factor in the most important variable of all, the "harvesting likelihood index", which is the attitude of landowners toward forest management. This knocks out more than half of what's left, leaving, in Butler's equation, about 38 percent still in play.
The harvesting likelihood index is derived from answers that landowners provide on the National Woodland Owner Survey (conducted by the Forest Service) to three questions: "have you harvested wood in the past?", "do you plan to harvest wood in the future?", and "is timber harvesting important to you?". "If a landowner answers yes to all three, we count that wood as most likely available," explains Butler. "If no to all three, there's still a chance, but it's relatively unlikely to be harvested."
Butler adds that his research focuses entirely on the supply of wood and not the demand. "This is a snapshot of landowner attitudes today. If prices change, attitudes could, too. I think about my house. Is it for sale? No. But if someone offers me two million? Well, here are the keys." Predicting future biomass supply turns out to be more of a sociological exercise than a silvicultural one. If the overwhelming majority of private forestland owners were to come to view biomass production favorably, the supply of biomass would double.
Seeing the forest beyond the trees
A recent report by the newly formed Biomass Thermal Energy Council (BTEC), Heating the Northeast with Renewable Biomass: A Vision for 2025, finds that 25 percent of the Northeast's heating needs could be met by biomass in the year 2025 without the need for new technology or a radical increase in forest harvesting. Currently, about 4 percent of the region's heat is so produced.
Of the 55 million green tons of annual growth in our forests, the BTEC report estimates that 17 million are currently in no-cut reserves or otherwise unsuitable for harvesting, 15 million are going to pulp and paper, and 8 million are going to sawlogs. That leaves 15 million green tons available for biomass.
But the report also looks at the relatively underutilized agricultural lands of the region and sees a larger resource: farmers growing dedicated energy crops like willow on these marginal fields and pastures could produce more than 23 million green tons of biomass per year by 2025, assuming that 25 percent of such lands were utilized. That's more biomass than would come from the forest. Adding this sum to the 15 million tons available from the forest, and cutting the combined total in half to be on the safe side, yields 19 million tons of biomass per year, or enough to produce 25 percent of the region's heat.
"The agricultural resource is still pretty theoretical at this point," says Charlie Niebling, chair of the BTEC and general manager of New England Wood Pellet in Jaffrey, New Hampshire. "But you look 15 years down the road, and you have to think that the agro-energy piece is going to be important, especially in New York State." Willow grown on farm fields is part of a much larger potential biomass resource than just what comes from the forest, including wood construction debris, shipping pallets, and suburban yard waste, among others. From a carbon-neutrality perspective, burning these fuels is doubly effective because they displace fossil fuel emissions and utilize carbon that was headed for the atmosphere already.
As in Brett Butler's research, the supply numbers presented by Niebling and others in Heating the Northeast are heavily dependent on social factors. Pulpwood, for example, is assumed to consume about as much annual growth in 2025 as it does now. But what if the paper industry continues to decline as it has over the past decade? Moving pulpwood into the energy column would triple the forest-based supply estimated in the report. "Our goal is to create a picture of what could happen," says Niebling, "and see if we can generate some enthusiasm. We think people will be more optimistic and confident, especially in the private sector, as they start to picture how it could work out."
If this vision were to be accomplished, the gains would be more than environmental. Some $4.5 billion that is presently being sent out of the region each year to purchase fossil fuel for heat would remain in the local economy, and 140,000 new jobs would be created.
Generating heat, not light
It's this combination of environmental, economic, and social benefits that is driving the enthusiasm for biomass in the Northeast. Though Heating the Northeast was prepared by pro-biomass advocacy groups like the Maine Pellet Fuels Association and the New York Biomass Energy Alliance, the general concept of seeing biomass as a solution to multiple problems has wide backing. A series of listening sessions was held in Vermont this past summer to gauge public interest in biomass energy. The list of sponsoring organizations is not the usual cast of pro-harvest characters: the Sierra Club, the Vermont Natural Resources Council, the Forest Guild, the Biomass Energy Resource Center, the National Wildlife Federation, and the Vermont Sustainable Jobs Fund. While the groups collectively were not calling for specific targets, they were unanimous in agreeing that expanded use of biomass should be explored.
Andrea Colnes of the Biomass Energy Resource Center, one of the sponsoring organizations, put it this way. "We have a very large, resilient forest that is mostly in management and largely unfragmented. Along with this abundant resource, we have a significant thermal load, and we use a disproportionate amount of the nation's home heating oil. Bringing these two factors together is very favorable for biomass use here in the Northeast."
Though much of the recent flap over biomass in Massachusetts has focused on proposals to burn biomass to generate electricity, the real potential for biomass, many proponents feel, is to burn it for heat. Or, even better, for heat and power combined. That's because burning biomass, whether in a home boiler or on a commercial scale, produces heat nearly as efficiently as any fossil fuel option, between 70 and 80 percent.
That's not true in a stand-alone electricity plant, where biomass efficiencies are roughly 20–25 percent compared with up to 35 percent for fossil fuels. "We have a limited supply of wood in the Northeast," says Colnes, "so it makes sense to use it as efficiently as possible. And that means using it for heat."
How might that work? The ideal scenario is a combined heat and power facility, sometimes referred to as a cogeneration plant, in which biomass is burned to simultaneously generate electricity and provide heat to nearby buildings or communities. Small towns, large commercial facilities, and college campuses are likely locations for such facilities. Middlebury College, in Vermont, presently generates about a fifth of its electricity and heat through such a biomass-fired facility. Many other institutions across the region also use cogeneration, though most are currently fired with fossil fuel.
But cogeneration has limited applicability. For one thing, most people in the rural Northeast live in individual houses spread too far apart across the landscape to be efficiently heated from a central facility. For another, siting new cogeneration plants in existing downtowns is sure to face tough zoning and public-relations battles. But pellet-burning stoves or furnaces in individual houses is an easier sell.
"It all comes down to scale and efficiency," says Niebling. "We need to right-size this technology to the nature of our communities. So far, our policy has been all about subsidizing big [power plants], but I'm encouraged that this is changing and that we're really starting to talk about making decisions that are right for the scale of our homes and communities."
Niebling points to three barriers standing in the way of wider use of biomass for heat: the cost of new boilers and furnaces ("we're not talking about your grandfather's creaky woodstove – these are advanced, super-clean wood appliances"), the logistics of fuel distribution ("there's not the economy of scale yet"), and public policy that favors other renewables ("we need to bring parity to heating compared with electricity and transportation.")
Someone with first-hand experience with the homeowner scale is Carrol Lucas, owner of Harris Energy in Littleton, New Hampshire. Lucas added pellet delivery to the eight-town region he serves just north of Franconia Notch. "I got tired of calling up my heating oil customers, asking them why they weren't buying as much oil anymore, and hearing that they'd switched to pellets," he says. Lucas sold 725 tons last year, the first year he offered pellets alongside heating oil and kerosene. But that's in comparison to the more than 700,000 gallons of heating oil he also sold.
"You've got your dollar-minded people who see that they're getting more BTUs from pellets than from heating oil. And you have the people who are tired of being held hostage to foreign oil," says Lucas. Logistically, he finds that selling pellets is no more difficult than selling heating oil and that the main obstacle to wider biomass use is the fluctuating price of oil. "It's going to take higher oil prices and things like what's going on in the Gulf of Mexico before more people say, enough."
Photo courtesy of the Biomass Energy Resource Center
A two-fer
Ultimately, where you come out on the biomass question may well depend on where you went in. If you're inclined at the outset to think that one of the gravest dangers our forests face is being clear-cut, and if you think that the forest products industry is only recently starting to behave itself after decades or centuries of overzealousness, you're liable to see expanded biomass as just the latest excuse for exploiting our woods. On the other hand, if your primary concern is finding local alternatives to fossil fuels, and if you think that the gravest danger facing our forests is not over-harvesting but rather subdividing to pay the tax bill, then you're apt to view biomass as something of a silver bullet.
As is so often the case, first-hand experience can be more influential than any number of expert studies. If you've ever lived in close proximity to an outdoor wood boiler, you're likely to have great difficulty imagining biomass as a green technology. If your primary time spent in the woods is in national parks and other no-cut forests, you're less likely to see the benefits of early successional habitat or the value of timber revenue to a forest landowner. On the other hand, if you yourself own land that's been successfully logged, or if you've participated in the wood-based economy and seen all the ways that it can work well, you might have trouble having patience for those who would rather trade all those immediate benefits for the obvious harm that comes out of, say, an oil well in the Gulf of Mexico.
Every form of energy available to us in the Northeast comes with drawbacks: fossil fuels cause global warming; nuclear power creates toxic waste; hydroelectric requires extensive modification of riparian ecosystems; wind is intermittent and hard to site; solar is intermittent and capital-intensive. Even conservation, number one on most people's list, is capital-intensive and requires materials (foam, calk, insulation, new appliances) that are not, by and large, made in the Northeast.
"The advantages of biomass are about much more than just carbon," says Andrea Colnes. "There's the rural economy piece, the forest management piece, the idea of keeping dollars local. Only biomass gives us the option of creating a closed-loop, local heating economy."
If a regulatory framework is put in place to mandate clean emissions, require high efficiencies, and ensure sustainable forest management – a big if, certainly, but not one that would require new or theoretical technology – the secondary benefits of biomass are considerable. Biomass is our fuel. It grows here, unaided, in one of the world's great temperate forests. The money and jobs created by utilizing biomass, therefore, also remain here: billions of dollars annually and hundreds of thousands of new jobs.
And these new monies and new jobs go into the woods, supporting the side of the economy that has a stake in keeping the woods as woods and not in converting them to housing and other development. "Biomass alone won't stop development," says Bob Perschel of the Forest Guild, "only good policies will do that. But biomass can provide options and money in support of good management, which helps keep forests as forests." Far from pitting global warming against deforestation, the thoughtful use of biomass offers a chance to combat climate change and deforestation simultaneously.
Further reading
Biomass Sustainability and Carbon Policy Study, by the Manomet Center for Conservation Sciences, can be found at www.manomet.org.
Heating the Northeast with Renewable Biomass: A Vision for 2025, by the Biomass Thermal Energy Council, is available at www.biomassthermal.org.
Forest Biomass Retention and Harvesting Guidelines for the Northeast, by the Forest Guild, is at www.forestguild.org.
A copy of Brett Butler's Biophysical vs. Social Availability of Woody Biomass is at www.familyforestresearchcenter.org. A final version of his paper is currently in publication.
Northern Forest Biomass Energy Action Plan, from the Biomass Energy Resource Center, can be found at www.biomasscenter.org.
Chuck Wooster is Associate Editor of Northern Woodlands.