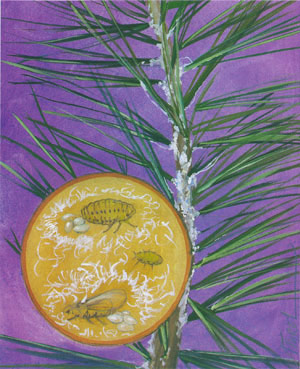 Illustration by Adelaide Tyrol
The bark of older and larger white pines is crusty and ridged, but before that, in youth and adolescence, a pine's bark is smooth, interrupted only by whorled branches, and is usually a deep charcoal gray. Sometimes, in contrast to what should be, the bark is washed with startling white, a sure sign that something is wrong.
Pine pitch is white, of course, and white pine blister rust causes an infected tree to ooze ugly drools of whiteness. But the pitch from this disease is usually centered on a branch – not between the whorls – and is associated with a sunken area of bark. And another fungus, Caliciopsis pinea, also causes smears of resinous pitch. But the most likely cause of whitewashing is colonies of pine bark adelgids, little dark-colored, aphid-like creatures who clothe themselves in white woolliness as a deterrent to possible predators.
Adelgids are tiny, sap-sucking insects that are closely related to aphids. All adelgids infest conifers, and many of them have complex life cycles and use different host plants at different stages of their life cycle. The pine bark adelgid, however, stays on pine, almost always white pine, but occasionally it infests jack pine, Scots pine, or other pines.
The insects are only about 1/32nd of an inch long, but their threadlike mouthparts, called stylets, are 1/16th of an inch long, and these are inserted through the bark and into the phloem. Phloem is the layer of tissue just inside the bark that is used to transport the food manufactured in leaves to the roots of a tree. Once the adelgids begin to suck up fluids from phloem cells, they stay where they are planted.
Most of these insects overwinter as immature females. As temperatures begin to rise in late winter, the females resume development, and, without mating, each one lays about 24 eggs within her protective woolly secretion. Then the female dies. The hatchlings, called crawlers, have legs and can move about. A very few of them have wings, and all or almost all of them are females. The crawlers transform into another stage, called nymphs, and these settle in to feed and develop, which they do rapidly. Soon, they are mature and have 24 or so eggs beneath them, and so it goes. In one season there are easily five generations. In theory, one overwintering mom could have about eight million offspring by autumn.
This, of course, does not happen, and more often than not, adelgid colonies are small and/or short-lived. Occasionally, nursery stock or otherwise-frail trees are seriously affected, but the unsightliness of the insects' wool is usually the biggest problem they pose.
No creature is wholly without predators, and the maggots of hover flies, syrphid flies, and other flies feed on pine bark adelgids during the summer. Lady beetle larvae also feed on them, as does another beetle, the tooth-necked fungus beetle (Laricobius rubidus). It happens that this tiny beetle can also survive on a diet that consists exclusively of hemlock woolly adelgids, and it is being studied to see if it can contribute to the control of that introduced insect.
Caliciopsis canker, although it is a fungus, not an insect, can sometimes look very much like an adelgid infestation – especially when either of these afflictions occurs high up in a tree, as is often the case. Recently, caliciopsis has received more attention because it appears to be on the increase, but it may simply have been overlooked in the past. Like the adelgids, it is often more unsightly than harmful to white pine. Unlike the adelgids, which seem to colonize trees indiscriminately, caliciopsis occurs on suppressed trees in dense stands or on trees stressed by drought. The cankers are on thin-barked areas of a tree, between the whorls of branches. They are usually superficial but may extend into the cambium and kill it. Typically, they do not affect the wood or the health of the tree significantly, but they can be numerous and the profuse pitch whitens large sections of bark.