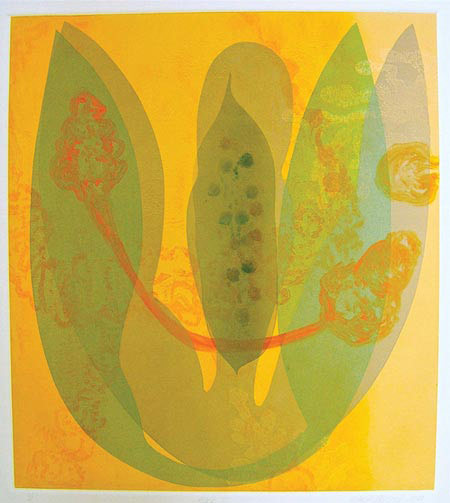 Betsey Garand
Hark II
17 3/4" x 15 5/8", Lift-ground aquatint monoprint and monotype, 2010
Hark: v. to listen attentively, to pay close attention.
Hark is an apt word to describe Betsey Garand's practice as an artist. Garand grew up on a small, self-sufficient family farm in Hancock, New Hampshire, and credits that experience with planting the seeds for her future work. As a child she spent countless hours observing the natural world, "…from frogs' eggs suspended in gelled encasements, plump spider bellies in dew laden webs, to the pattern of birch bark." As Garand explains, "The infinite variety of form, color, and change inherent in nature significantly impacts my prints and drawings."
"Hark II" is flooded with sunlight and the translucent fragility of new life. Unspecific as a scientific depiction, it does reference many things to those of us familiar with nature's designs. Symmetry, seedpods, dicotyledons, and ovules; these visual clues remind us of the cross-sectional study of a flower. But "Hark II" is most definitely not a diagram; rather it is an icon of sorts, a symbol of a life form's emergence. Garand combines observed and invented shapes to form a visual language that is both representational and abstract. It embodies what we know intellectually with what we know viscerally. —Adelaide Tyrol
Betsey Garand is presently Resident Artist at Amherst College in the Department of Art and the History of Art, where she is head of printmaking. Her work is included in many public collections throughout the country and abroad. She is the recipient of a Pollock Krasner Foundation Grant and has been awarded fellowships at the MacDowell Colony. Garand may be contacted through her gallery, Furchgott-Sourdiffe in Shelburne, VT, or by email.