Photo by Jack Rodolico.
Donnie Hardwick Jr. is a spitting image of his father. In the picture hanging in the lobby of the family business, Donnie Sr. sports a scraggly beard, wide-rimmed glasses, and a blue crocheted hat – the kind of thing you might see on a grandmother, not a burly logger. But shave off the beard and peel off the hat and glasses and you've got Hardwick Jr., who, as he stands beneath the portrait, says he has heard that he looks like his father more times than he can count.
The resemblance is a point of pride for Donnie Jr. and his mother, Teri. Two years ago, the family lost Donnie Hardwick Sr. to lung cancer. When he passed away at 53, Hardwick Sr. left behind two things: the logging business he built with his own sweat, and a big, sprawling family determined to cope with the loss and keep the business going.
"It is not very often that such a big family can get along so well working together," said Teri Hardwick. "Love what you do, do what you love is what this family is lucky enough to do every day."
D.H. Hardwick and Sons, Inc. is a "stump-to-dump" logging outfit in Bennington, New Hampshire. The Hardwicks not only cut wood, but also process it into lumber products. Donnie Sr. and his family have always pushed the edges of technology and innovation, running a tight operation with a solid reputation as both loggers and conservationists.
Hardwick Sr. started the business in 1978 with a cable skidder and a lot of ambition. He was 19 years old and lacked a high school diploma, but within a few years was expanding his client base throughout southern New Hampshire. As the business grew, he recruited family members: his mother kept books while two brothers cut and skidded wood. Teri joined in, too, in part because there wasn't much of a choice; the business operated out of the family home and her husband needed the guidance of a thoughtful business partner.
The business grew, and so did the family. "People say the Hardwicks breed like rabbits," Teri said. From her descriptions of life with the young family, it sounds a bit more like a bear den. Donnie Sr. and Teri had four boys in six years. The boys climbed all over the logging equipment like a pack of raucous cubs, and as soon as they were coordinated enough to hold a rag, Donnie had his boys washing and greasing trucks.
"He gave us reins and let us make mistakes," said Donnie Jr. "Not big mistakes, but our own little mistakes."
As the boys were coming of age, Donnie Sr. found opportunities to expand his business. Knowing he could deliver wood on schedule, a mill financed Donnie Sr.'s first woodlot, which he leveraged over the years to expand to 7,000 acres. Buying a woodlot was something of a no-brainer for a logger, but Donnie Sr. made another investment that, in retrospect, showed his ability to think ahead. In the 1980s, logging jobs left behind plenty of wood – treetops and scraggly trees with no timber value. But all those scraps had tremendous potential as biomass. In the 1980s, chip-burning power plants were coming online in New England, but they relied on a haphazard network of wood producers to supply chips. So when a power plant offered to finance Donnie Sr.'s first chipper, he jumped. The chipper allowed his crew to process woody material right on the job site, before delivering the chips directly to a power plant.
"Once he decided to jump in and do whole tree chipping," Teri said, "it took off and became a bigger business."
Not many contractors were offering both logging and chipping services back then, so the new gear and larger crew provided Donnie Sr. a competitive advantage when it came to securing new projects. He also expanded his fleet of trucks to increase efficiency.
"They are, pound for pound, horsepower for horsepower, the most productive logging crew in New Hampshire," said Eric Johnson of the New Hampshire Timberland Owners Association. "And their best management practices are exceptional. They don't just hammer the woods."
Johnson adds that the Hardwick sons have "taken it to the next level." On a typical day, 15 to 20 tractor-trailer loads of chips leave Hardwick job sites, all en route to become electricity or heat.
Donnie Jr. is an old 31. As a teenager, he knew he wanted to work with his dad and uncles. So, blazing a path that all three of his younger brothers would follow, he finished high school a year early and skipped college so he could work in the woods. While others were pledging fraternities and applying for internships, Donnie Jr. worked under his father's wing, learning how to talk to customers, maintain a fleet of vehicles, and turn a profit in a business that requires spending hundreds of thousands of dollars on diesel.
A half-mile behind their office in Bennington, Donnie walked me into a lot where his uncle and brothers have been chopping and chipping. The crew has harvested some highvalue oak and white pine, and the logs lie stacked like massive matchsticks on the landing. The treetops and low-value trees have all been cleared, chipped, and trucked to plants in New Hampshire and Vermont.
What's left standing is a handful of stately, 100-year-old red oaks. The soil is roughed up a bit, as red oak needs scarified soil to regenerate well. If there's a solid crop of acorns this autumn, the next generation of oak seedlings will soon take root. With luck, in 50 to 70 years, a new crop of Hardwicks will be here to harvest the next crop of oaks.
As we survey the scene, a skidder ambles out of the woods like a mechanical praying mantis. The driver backs up about 70 feet of tree more precisely than I back my Prius into the driveway. "That's my uncle," says Donnie Jr. "He's been doing that for almost 30 years now."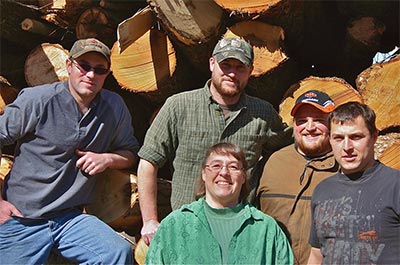 Teri Hardwick (front) with her four sons (from left to right) Ben (29), Donnie Jr. (31), Joe (25) and Jeb (30).
Photo by Jack Rodolico.
Out in the woods, it's pretty much all family. Donnie Jr.'s uncle and three brothers take care of the logging, while Donnie finds jobs and talks to clients. "I line 'em up," he said, "and they knock 'em out." Several other father-son teams – all family friends – drive trucks, and other family members have retired from the business. Donnie Sr.'s mother still keeps the books, and last fall his father (age 80) ran bulldozer on a job site.
It was a shock when Donnie Sr. got sick. By the time he was diagnosed with lung cancer, the disease had spread throughout his body. Medically, the final result was a certainty, but it still was difficult for everyone to believe that such a productive guy could be slowed down so suddenly. At the time he was busy at work and loving his time with grandkids, inviting them out to job sites for rides on 15,000-pound vehicles. Sometimes people beat cancer. Other times cancer does what cancer wants.
"He was young," Teri said of her late husband, "but he lived a life that most people could not fit in 75 years."
The family had a tough time, but the work – the business Donnie Sr. built – was the best kind of therapy. It also helped that Donnie Sr.'s entire extended family, a collection of sisters, brothers, nieces, nephews, grandchildren, and cousins totaling over 100, all live within a few miles of one another. The Hardwick clan makes up approximately three percent of the population of Francestown and Bennington.
For some families, this closeness would be claustrophobic. But for the Hardwicks, it's just how they do business.
Jack Rodolico is a freelance writer and radio-maker based in Concord, New Hampshire. Wagner Forest Management, Ltd. is pleased to underwrite Northern Woodlands' series on forest entrepreneurs.