"It should be right up here ahead of us," promised Kevin Martin, his focus alternating between his handheld GPS and the knee-deep water that surrounded us. He was looking for the best (and driest) route to the biggest black gum tree in New Hampshire. The woods-and-water setting was appropriate, as Martin has been building and repairing wooden boats for three decades. His other passion is big trees. In 2013, he authored a guide book on the subject, Big Trees of New Hampshire, intended to help others find and marvel at some of the largest specimens in the state.
Martin was a carpenter who transitioned to boat-building in 1980 when he built a home on the banks of the Lamprey River in Epping, New Hampshire. There, he has a workshop and a handy place to test out his creations. He's self-taught and started out reading books to learn the history and construction of wooden canoes and other small boats. "I started by building a strip-plank canoe covered with fiberglass, inside and out," Martin explained. Wood-canvas canoes are more his focus these days, as there's more demand for that type. He restores historic models and got his hands on some vintage steel molds that he uses to build exact replicas.
Outside his shop, beside covered racks of project boats, are piles of sticked lumber. "I try to use local wood whenever I can," said Martin. "It doesn't have to be furniture-dry for boats. In fact, sometimes, if you want it for ribs, you want it a little green so you can bend it." Martin typically searches out the logs – cherry, tamarack, ash, oak, spruce, pine, cedar, and others – and brings them to a bandsaw mill down the road.
While the species he seeks out vary, the logs have one thing in common: they're big. "With this kind of boat work, you can't really have knots in the wood because it's cut so thin. Plus, with the planking you need tight grain, and I've found that the best logs for tight grain and clear wood are the butt logs of big, wide trees," Martin explained. "So I'm always on the lookout for good-sized logs."
He never gave much thought to the big trees that provide those logs until serving on the Lamprey River Advisory Committee. Some large black gums had been documented along the river during a wildlife study, and the suggestion was made that they be entered in the New Hampshire Big Tree Program, a volunteer organization that tracks and tallies the biggest trees of each species in the state. "But nobody ever did it," said Martin, "so I thought, 'I'm going to go look for those trees and enter them.'" It took a lot of wandering around, but his bushwhacking through the swampy site paid off. He found the trees and submitted the measurements of the largest to the New Hampshire Big Tree Program, which pronounced it a state champion.
Martin says the pride of having found a champion tree, and what he learned about the ecological and social benefits of big trees, inspired him to look for others around New Hampshire. "I was excited about it and I joined the New Hampshire Big Tree Program. They gave me a list of trees to find in Rockingham County that hadn't been measured since the 1970s," he said. That scavenger hunt reinforced the enjoyment of searching out big trees, but also the difficulty of the pursuit – either directions were sketchy or the land had been developed or the trees were on private property.
Though he had no experience as a writer, Martin was determined to put together a book to help others find some of the biggest trees in the state. Big Trees of New Hampshire, from Peter E. Randall Publisher, includes 28 trees dotted throughout the state, all on land accessible to the public with no more than a short hike. GPS coordinates are included for each, as are photos and details such as bark texture, uses for its wood, and other interesting facts. Martin says that hunting for big trees is an inherently educational experience. "Especially the introduced species. I didn't know much about them. And I didn't know how to tell some of the different spruces apart. I learned a lot," he said.
Even on this return visit, Martin's amazement at the huge black gum remains. "See the bark? It looks almost prehistoric," he said, running his fingers down the unusually deep furrows of the surface. "And as they get older, they get hollow inside, even down low."
Martin has plans to produce a similar guidebook to the big trees of Vermont in the near future, and currently is hoping to locate the biggest tamarack in New England. It's a species he's used in boat-building and for which he has a personal affinity. "They're spectacular. I'd love to find a national champion," he said.
The Big Tree Program Utilizes a Point System to Determine Champion Trees
Circumference at Breast Height in inches + Vertical Height in feet + 1/4 x Average Crown Spread in feet = Total Points.
State champions are forwarded to American Forests, a Washington D.C.-based conservation organization that maintains a registry of big trees across the country and annually announces national champion trees in each species.
Copies of Big Trees of New Hampshire can be ordered here.
Big Tree Sampler
"The first thing you notice is that the trunk is quite hollow," wrote Martin of the state champion mockernut hickory, which seems to stand on four legs made of bark. "It makes you wonder how much longer it will hold up under some of the strong winds that must blow on the hillside."
122 inches CBH, 95 feet VH, 48 feet ACS
Bragdon Farm, Amherst, New Hampshire
GPS: N 42° 54.319' W 071° 34.519'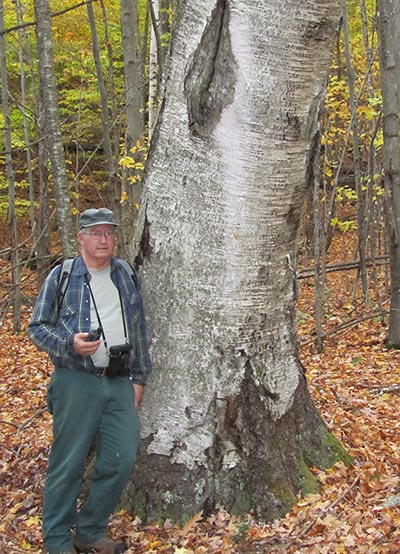 Forest Lake State Park is home to several Coös County champion trees, including this paper birch (seen with retired county forester Sam Stoddard). "This is a healthy looking tree that should keep gaining in size," wrote Martin. "It is the third-largest in the state, but in better condition than the other two, so as long as it doesn't fall over from the lean it has, it could gain on its status."
104 inches CBH, 80 feet VH, 51 feet ACS
Forest Lake State Park, Dalton, New Hampshire
GPS: N 44° 21.617' W 071° 41.282'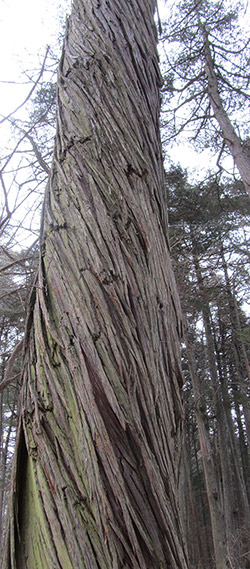 Known as "Mister Twister" for its distinctive appearance, this is the state of New Hampshire's largest white cedar. "I am sure the wood under it has the same twisted grain," wrote Martin. "It is an unusual looking tree that has great character and deserves the honor."
73 inches CBH, 75 feet VH, 30 feet ACS
Webster Wildlife and Natural Area, Kingston, New Hampshire
GPS: N 42° 54.042' W 071° 03.692'
Though there are no state champions to be found (based on points), the Big Pines Natural Area features a loop trail that travels through a collection of huge pines, including the tallest in New Hampshire at 148 feet. "On your way down and back to the river, you will notice how damp the air is with the river and streams flowing through here off the hills," wrote Martin (shown with the biggest of the Tamworth Pines). "The moisture seems to hold and collect, giving that rain forest feel. Maybe that is what helped these trees reach their great size."
179 inches CBH, 148 feet VH, 51 feet ACS
Big Pines Natural Area, Tamworth, New Hampshire
GPS: N 43° 53.047' W 071° 17.71'
Have a great photo of a favorite big tree? Send us your photos for our Facebook page.