Photo by Ned Therrien
Adam Mock Logging chipping trees and tops for fuel
Since the time of the first humans, wood has served as an important fuel source. We relied upon it first for heat, today for electricity, and tomorrow maybe for liquid fuels. Wood used simply as a fuel source – not as lumber, pulp, or other value-added products – is known as biomass and today still accounts for half of all wood harvested worldwide. The northeastern U.S. has long been a leader in the use of wood as a source of energy, and efforts continue to keep the region at the vanguard of biomass energy and bio-product development.
Wood energy has been a meaningful part of our region's electricity mix for about 20 years, and it was a part of many paper mills' electricity supply long before that. It has seen its ups and downs over the last decade, but today, wood energy is looking as attractive as ever.
The region's wood energy industry developed in response to the last energy crisis in the 1970s. Wood was recognized as a local, renewable, and abundant energy source, and facilities to turn this resource into power were built. When projections of oil shortages made in the late 1970s and early 1980s turned out to be wrong (or at least premature), these wood-fired plants became high-cost producers in comparison to nuclear, coal, and oil. Today, we are coming full circle, with biomass power plants around the region operating at full-tilt, long-idled plants back online, and developers scouring the region for suitable locations to build new facilities.
Why? While wood energy hasn't gotten any cheaper, the competition (particularly natural gas) has become much more expensive. Faced with very real concerns about the current capacity to meet the peak electricity demand during extreme weather events (hot spells and cold snaps), public policy makers at both the state and federal levels are once again encouraging development of renewable energy.
Biomass energy in the region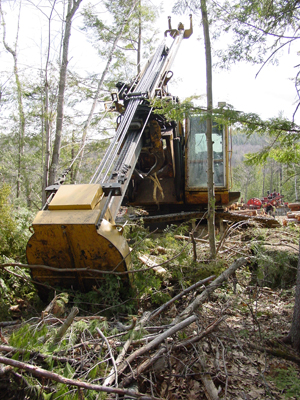 Photo by Charles Levesque
Some operations use delimbers in the woods
In travels around the North Woods, it's hard not to occasionally end up behind a truck full of wood chips. Where are they going, and to what end? Most will shed their loads at one of many wood-fired power plants scattered across New England and New York, which each year turn millions of tons of low-grade wood into electricity to power homes and businesses.
In the power grid that serves most of New England, biomass is a small but important electricity source. Natural gas serves as the fuel for almost 40 percent of the electricity generated in the region, with nuclear supplying a quarter. Coal-fired and oil-fired power accounts for a little over 20 percent, leaving the rest – about 15 percent – to renewable types of electricity generation. Of this, hydropower makes up more than half, with the rest coming from biomass, landfill gasses, and a few wind farms.
Five years ago, construction of new natural gas power plants was all the rage. Proponents argued that the use of natural gas would significantly decrease the cost of electricity in the region, and a wave of new plants was built. Just like previous forecasts of cheap power, this one, too, was wrong. Today, natural gas provides some of the most expensive electricity and often sets the price for the power you buy.
The cost to produce electricity varies widely, depending on fuel costs, debt service, economy of scale, maintenance requirements, technology used, and emissions controls. It can cost $40 per megawatt (MW) or, in a perfect storm of complicating factors, it could cost nearly four times that.
In the present environment, wood energy is competitive, and many facilities are operating at or near capacity. Biomass energy facilities, long thought of as too expensive, are suddenly looking attractive when compared to some of their competitors. Couple this with a demand that is growing faster than supply, and there is clearly a spot for biomass power.
Public policy encourages biomass power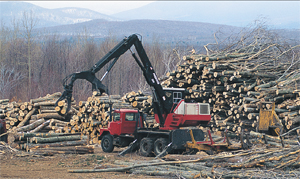 Photo by Ned Therrien
A&B Logging's log loader and chipping pile at
Twin Mountain in the White Mountain National Forest
In addition to the underlying energy market, public policy plays a significant role in the retention and growth of renewable power, including biomass. On the public policy side, the desire for cleaner fuels, energy security, and local economic development is causing leaders to evaluate ways to encourage renewable energy development. Non-market benefits of wood energy include:
Biomass power plants have very low emissions when compared with other fuels. At Public Service of New Hampshire's Northern Wood Power Project, conversion of an existing 50 MW, coal-fired unit to wood will result in significant reductions in sulfur dioxide, nitrogen oxides, and mercury emissions. (In the interest of full disclosure, the company I work for, Innovative Natural Resource Solutions, has served as a consultant on this project.)
As we station troops around the world, it's hard not to wonder which domestic fuels can help meet our energy needs. While oil is a very small part of our national and regional electricity mix, adding renewables to the mix helps diversify energy supplies and cushion price swings. Energy sources found here – wood, wind, water, and some coal – are buffered from the complexities of foreign trade and diplomacy.
Wood energy can provide a significant economic boost to our region's rural areas and help support loggers, landowners, and wood-using industries. A 2002 study in New Hampshire found that the state's six then-operating wood-fired power plants provided up to 400 jobs and had an economic contribution of nearly $100 million. Wood fuel dollars stay in the local economy; the same can't be said for coal, oil, or natural gas.
Recognizing the public benefits associated with biomass power production, the federal and state governments have responded with incentives. On the federal level, support for biomass comes in the form of a confusing mix of loans, grants, technical expertise, and tax credits. Dividing these programs between the U.S. Forest Service, the Department of Energy, and others doesn't do much to clarify things, but one incentive – the Production Tax Credit – is easily accessible to a broad range of biomass and renewable energy projects. This tax credit allows power plant owners to receive $9 per megawatt-hour in financial support, a significant help to the economics of a biomass facility.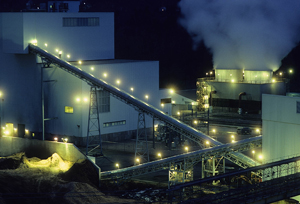 Photo by Paul O. Boisvert
Night view of Burlington Electric's McNeil
Generating Station, a wood-fired power plant
Additionally, at the state level, New York, Massachusetts, Connecticut, Rhode Island, and Maine have adopted a "Renewable Portfolio Standard," or RPS. In essence, an RPS requires electricity providers (the folks you send a check to each month) to get a certain, and often growing, percentage of their power from renewable energy suppliers. These programs vary widely from state to state but have proven to be a true incentive for new and existing biomass power plants. The funding comes from electricity providers, who pay a little extra to comply with the renewable energy mandate and pass the cost on to every customer, including the large ratepayers.
Besides requiring renewable energy production, an RPS can improve the economics of the biomass power plants themselves. For example, a biomass plant that qualified for the Massachusetts RPS in 2005 would have received around $50 per megawatt-hour produced, in addition to revenue from the sale of the electricity itself. With some long-term electricity contracts paying producers as much as $80 per megawatt-hour, adding the federal credit and the RPS payment can combine to make biomass energy look attractive to developers.
Of course, "look" is the key word in the previous sentence, and it is important to note that renewable energy payments are in their infancy, and as in any developing market, prices can swing quickly. In Connecticut, RPS payments dropped from near $40 to near $2 per megawatt-hour in 2005 alone when a new supplier unexpectedly entered the market and helped create an oversupply. Additionally, qualifying to participate in the Massachusetts RPS is not easy, with stringent technology and emissions requirements that few plants can meet.
The next generation of renewables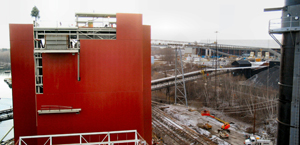 Photo courtesy of PSNH
Public Service of New Hampshire's Northern Wood Power Project
involves replacing a coal-fired power plant with a wood-burning
facility, shown here under construction
Today, biomass electricity is generated with wood chips from timber harvesting operations. With state and federal incentives, as well as the rise in overall energy costs, we will generate even more tomorrow. But what's beyond that?
For decades, researchers and developers have heralded the "bio-refinery revolution," where the myriad of products made today from oil (gasoline, chemicals, plastics, and more) will be made from wood. In fact, production of ethanol from wood was common in World War II Germany, when access to oil was severely limited. In the U.S., a wood-ethanol project was active in the South during World War I. The technology exists, but it hasn't yet proven competitive with oil in an open global marketplace.
The U.S. economy, and to a lesser extent the world economy, runs on oil. Our ships, cars, trains, and even loggers' skidders rely on oil to operate. The U.S., ever the consumer, accounts for a quarter of global oil consumption, more than the next five highest-consuming countries combined. This huge appetite is nearly all based on imports – we own only two percent of the world's known oil reserves.

In recent years, developers have proposed facilities making ethanol, diesel additives, bio-oil, plastic, and other products that would use wood as the feedstock. Many of these proposals died on the drawing board because investors were unwilling to take the risk with a new technology competing against low-cost oil. With oil momentarily topping $70 a barrel in 2005, however, and no return to the days of $35 barrels in the forecast, many bio-product business plans are being dusted off and updated.
Biomass does have real potential to substitute for or compete with fuels and products currently made exclusively from oil; the corn-to-ethanol industry has demonstrated that. We know that some products can be made in the lab, so today's considerable challenge is moving these to commercial production. Maine, Wisconsin, New York, New Hampshire, and others are racing to develop this emerging industry, in the hope that this could revolutionize the region's forest industry. It may, but it's also clear the revolution will be gradual, build upon existing industries and infrastructure, and will see a large number of failures for each commercial success.
The impact on forests and forest landowners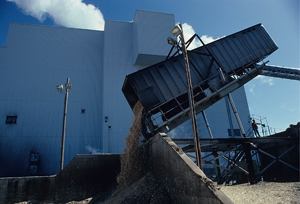 Photo by Paul O. Boisvert
This method gets chips out in a jiffy
The resurgent biomass industry, and the prospect of a new and growing bio-product industry, may have some forestland owners seeing dollar signs. It's important they not see too many. Biomass as an electricity source has historically paid little (if anything) to the landowner; this will likely continue for the foreseeable future. Landowner and logger profits are made on sawlogs and, to a lesser extent, pulpwood. Biomass provides landowners with a low-grade market for their tops, branches, and cull trees. It allows foresters to use an important management tool, and it can provide true benefits to landowners, making it possible to remove poor-quality growth that would otherwise dominate a stand's future. Just don't expect to count the benefits in a large stack of bills.
For loggers, biomass prices are now as high as they have ever been, even adjusted for inflation. However, input costs – including diesel to run the feller-buncher, skidder, chipper, and truck – are at their highest levels in 20 years. Most increases in wood price have been quickly eaten up by cost increases, so loggers aren't necessarily seeing increased profits.
Add to this the increased competition from other wood sources, including paper cubes (pelletized paper that can't be economically recycled) and construction and demolition waste, whose use is highly controversial, and it doesn't appear that further price increases are coming for supplying biomass (at least when adjusted for the cost of oil).
For bio-products, developers have been heard to promise they will pay untold fortunes to landowners. Without production facilities, these promises are worth little. When factories are built, we can expect them to pay market price for wood, and – like everyone else – seek ways to limit wood costs. They may grow the market, and therefore raise the price of wood, but don't expect $200 a cord on the stump.
The Northeast has an abundant and sustainable supply of biomass, a landowner and logging infrastructure prepared to meet supply needs, public policy that favors biomass energy, and a population that recognizes the many benefits that wood-derived electricity and fuels can provide. As a region, we are well positioned to continue a leadership role in the adoption and advancement of biomass energy.
Eric Kingsley, vice-president of the consulting firm Innovative Natural Resource Solutions, LLC, has been involved in the siting, conversion, or upgrading of a number of biomass power plants in the region and across the country.