Photo by Heidi Winter
When Richard Winter builds a coffin, he needs a few basic measurements – the occupant's height, width, and weight – but he also wants to know the person's name. The process of constructing someone's final resting place is deeply personal for Winter, a carpenter and cabinetmaker in north-central Vermont. "I find it an honor to be able to do this for people," he says.
Winter, a 56-year-old craftsman, has been building wooden coffins for over 15 years in his East Calais workshop, a detached post-and-beam barn that sits just behind the quaint cape where he and his wife have lived for the past 18 years. Just beyond the wide barn door, Winter's dust-filled workshop could belong to any number of New England woodworkers, if it weren't for the 7-foot long coffin in the middle of the room. Likewise, this friendly carpenter with the slightly down-turned mustache could be any other smart businessman who saw a need and filled it, if you didn't know the man behind the trade.
It takes an unusual person to meet people in the depth of despair and be able to help them navigate through this necessary step in the grieving process. When you first meet Winter, it's easy to see why bereft families would feel a sense of comfort in his presence. His genuine warmth and mild-mannered nature make him a natural fit for the difficult role he plays.
Having recently lost his own mother, Winter knows firsthand how impersonal the funeral business can be. "I'm trying to build a business where human relationships are central," he says. And that's exactly what sets Winter's coffins apart from their mass-produced competitors – the coffin-maker is intimately involved in the process.
After graduating from college in the 1970s, Winter knew he wanted to learn a trade in wood. So he began apprenticing with a cabinetmaker in Boston and then made the transition to general carpentry 10 years later when he started planning his move to Vermont. "I knew I'd need to know how to build a house."
Ironically enough, the building where he first apprenticed had once been home to a casket-making company. Whether it was synchronicity or a seed that was planted in his subconscious, Winter began entertaining the thought of making coffins as an alternative to the expensive caskets offered by most funeral homes (averaging $2,000 - $5,000; Winter's coffins run between $575 and $775).
"It was kind of this lark of an idea," he says. "I didn't know if it would ever happen." But soon after he relocated and finished building his home in East Calais, he began doing some research.
The first coffin that he made was his own. It's now sitting in the hay barn next to a few piles of hay. But over the past 15 years, he's built coffins for neighbors, community members, and even out-of-state families who've found him through his website.
Although he may only share a phone conversation with some customers, Winter has the opportunity to meet the majority of his clients in person. This is how it always used to be, Winter points out. "Traditionally, the village cabinet- and furniture-maker was also the coffin maker," he says. "This seemed like a good tradition to continue."
Winter estimates that about one-third of his clients order a coffin "ahead of time" for their own use. "They're either elderly or have had a recent health scare. They know what they want – something simple, locally made, and inexpensive – and don't want their families to have to worry about it after they're gone. So they buy the coffin and store it in a barn, basement, or spare bedroom."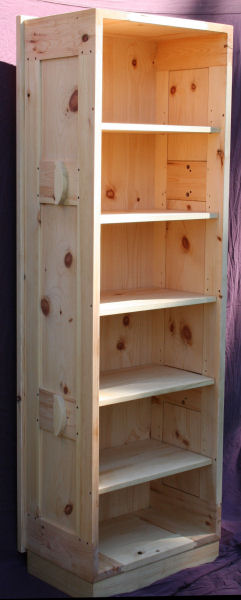 Coffin bookcase
Photo by Heidi Winter
For the practical client looking to get some immediate use out of their investment, Winter will convert a coffin into a temporary bookcase for use in the library or living room. "I sold one as a bookcase last year at the Tunbridge Fair," he says. "The owner doesn't find it creepy at all."
For other customers, the coffin arrives when they need it. In one case, Winter met a future customer at his fair booth. The man took his card. Months later, he received a call from a funeral director who was following through on a burial request. The man, who Winter had enjoyed chatting with at the fair, had passed away and left Winter's business card and a letter requesting that he build his coffin.
Many of Winter's clients are drawn to the idea of being buried in a simple wooden box. He says that the idea of returning to the earth is important to his customers. "They want something that's simple and will disintegrate. The simplicity grabs most people."
Relatives of the deceased can work with Winter to personalize a coffin, an option that's unavailable at most funeral homes. He tells a heart-wrenching story about a neighbor who wanted to help make a coffin for his 20-year-old daughter. "He took part in the process and helped create it," he remembers. "He referred to it as his daughter's boat to take her to whatever lies ahead – he even wanted to paint it. It was part of the healing process for him. That part of it is really gratifying for me; it makes what I do so much more than building a piece of furniture."
It's not only the craftsman's hands that give a sense of personalization and character to each of Winter's coffins, it's also the materials he uses to build them. "I try to use all locally cut wood from local mills," he says. Winter gets much of his wood from Exclusively Vermont Wood Products, a Bristol, Vermont, mill that offers wood that's cut exclusively in the state. Although most customers "just want simple pine," Winter can accommodate requests for local hardwoods such as cherry, oak, ash, and maple.
It takes about two days for Winter to transform the kiln-dried wooden planks that he buys "in the rough" into one of his standard rectangular 25- x 80-inch coffins. Featuring wide pine for the sides, mitered corners, and tongue-and-groove joints, Winter's coffins are simple, solid, and biodegradable. He will also substitute pegs for the screws, if requested.
After sanding the coffin with 120-grit paper, he uses tung oil, thinned with a little turpentine, for added color and protection. There are times when the coffin must be used immediately, so he'll cover it in a bee's wax and oil mixture to give it a nice honey fragrance.
In recent years, Winter has noticed an increased interest in cremation. So he's now making urns. "I just shipped a few off to New York," he says. "They're getting them ahead of time and keeping them in their closets – they actually look like jewelry boxes."
Just who are these customers who seem so comfortable preparing for something that the rest of us would rather shut our eyes to? Winter says that some of his clients have been farmers. "Farmers deal with death all of the time," he says. "For Vermonters who are rooted in the rural lifestyle, they know all about life and death …. It's the norm."
Others are surprisingly matter-of-fact folks who seem at peace with death.
Winters tells the story of a woman diagnosed with a brain tumor who appeared in his driveway one day with her husband. "She came in, and I made the measurements," he recalls. When he later delivered the coffin to her home, he remembers her yelling from the other room, "Put it in the library, and you can put me in it when I'm ready!"
Winter points out that the vast majority of us only face the reality of death when we've lost a relative or a pet. "In this culture, we don't want to think about it," he says. "We look at it as either ghoulish or incredibly devastating. But it's there all the time. If you're alive, it's right over your shoulder."
When asked about his own feelings about the hereafter, Winter says that he doesn't have as much dread as he once did. "This has helped me," he says. "There's something about taking part in the process and learning about death that makes it less frightening."
Most of us don't find ourselves face-to-face with such big questions when we head into work each day. But Winter, taking it all in stride, seems to have found his "calling" as a craftsman – a rare coming together of practical skills, good instincts, and the best of intentions.
Amanda Kuhnert is a freelance writer and personal historian who lives in Stowe, Vermont. (www.fourfoldlegacy.com)