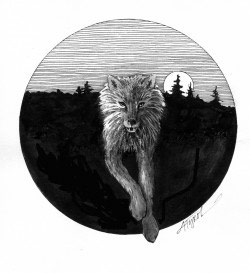 Illustration by Adelaide Tyrol
In October 2006, Charlie Hammond, a resident of Troy, Vermont, shot what he thought was a coyote in a field. Turns out, the animal weighed 90 pounds, about twice as much as the average Vermont coyote. It had several characteristics, including a long muzzle, slanted eyes, and a black nose pad, that suggested it could be a wolf. State wildlife officials took tissue samples to test for DNA to get to the bottom of the mystery.
If the DNA samples prove the animal to be a wild wolf, it would be the first wild wolf in Vermont in over 100 years. DNA results from a 72-pound canine shot in Vermont in 1997 were inconclusive, causing officials to believe it was a canine hybrid of some sort.
The last wolf in New Hampshire was killed in 1887. There are no clear records of Vermont's last wolf, but they are believed to have been wiped out in the state by 1900.
The 1800s were not happy times for wolves in northern New England. Much of the land was cleared for agriculture or was clearcut. Moose and white-tailed deer populations had plummeted. Sheep farms ruled the Vermont landscape, providing easy hunting for wolves, but making the wolf the dire enemy of farmers. Bounties on wolves in both Vermont and New Hampshire provided ample incentive for anyone who could kill a wolf to do so.
By the mid-1900s, most of that had changed. As abandoned farms grew back into forests, they provided an ideal habitat for moose and deer, and those animals flourished. People, especially those in urban areas, stopped seeing the wolf as a big, bad threat to little pigs and red-hooded girls and started thinking of it as a symbol of freedom in the nation's ever dwindling wild lands.
In the early 1990s, the U.S. Fish and Wildlife Service identified potential wolf habitat in New York's Adirondacks, in northern Maine, and along the Maine and New Hampshire border. Since then, areas of Vermont's Northeast Kingdom have been cited as potential wolf habitat as well.
With stable wolf populations in both Ontario and Quebec, it was thought that wolves would return to the Northeast simply by strolling over the Canadian border. But today, a channel in the St. Lawrence River is kept constantly clear of ice for shipping traffic. Wolves may have once crossed the frozen river in winter, but wolves swimming the frigid river channel while dodging boat traffic seems unlikely.
In 1995, wolves were reintroduced into Yellowstone National Park. It seemed that the only thing that stood in the way of wolf reintroduction in the Northeast was political will. In 1999, the State legislature of New Hampshire expressed its will by passing a law forbidding the reintroduction of wolves to that state.
But nature has its own will. In 2002, wolves were killed in Canada just 20 miles from the New Hampshire border. Then, 10 miles from the border, fish and wildlife officials asked Vermont hunters be on the lookout for wolves in northern Vermont.
Since then, there have been several years of poor weather conditions for tracking wolves. The U.S. Fish and Wildlife Service's budget has been cut time and again. The Endangered Species Act, the legal foundation for the wolf's reintroduction, became endangered itself.
The very success of wolf reintroduction programs in the West kept the environmental groups that are interested in wolf restoration busy: as wolf populations grew, so did the wolves' run-ins with humans.
Peggy Struhsacker, a wolf specialist with the Natural Resource Defense Council who is based in Vermont, has been working for wolf restoration long enough to have watched people's attitudes toward wolves change.
In the West, many ranchers, once the wolves' enemies because of livestock losses, have become wolf supporters. "Those ranchers I've spoken with say, 'I have the privilege of using this public land, so I know I have to share it with wildlife,'" says Struhsacker. These days, it's the elk hunters and the outfitters, she says, who fight the hardest against the wolf.
Struhsacker saw the animal that was shot in Troy last fall after it had been frozen. She does not believe it was a wild wolf. "Its nose wasn't quite right," she says.
Also, she says, its fur was fuzzy and curly in places, something seen in domesticated animals, but not in wild ones. Its claws and the fur on its backside were worn in a way that suggested it had spent time on cement. Plus, she says, it had a pot-belly, which generally isn't seen even in wild animals in good wolf habitat.
The DNA results, announced last month, showed that the animal was a wolf, but, as Struhsacker suggested, that it was likely a domestic animal, bred by humans since its genes mixed strains of wolf that wouldn't have the opportunity to breed in the wild. The Northeast will have to continue to wait for the return of the wild wolf.
Madeline Bodin is a writer who lives in Andover, Vermont.