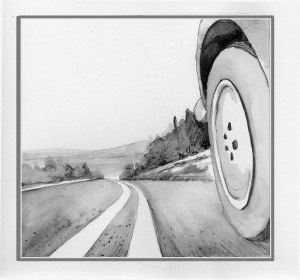 Illustration by Adelaide Tyrol
How do animals cross the road safely when traffic speeds by at 80 miles per hour? Hopefully, they don't have to. Officials from both Vermont and New Hampshire are working to make it easier for animals - from salamanders and frogs to deer and moose - to navigate across areas crisscrossed with roads by creating wildlife crossings that resemble natural habitat.
In southwest Vermont, a newly constructed highway called the Bennington Bypass crosses a river in the middle of a heavily used wildlife corridor. Rather than sizing the highway bridge to usual standards - just large enough to span the river at full flood - engineers designed it to be extra long so that dry land and riparian habitat were preserved in a continuous strip along both sides of the river. This allows wildlife to cross under the highway rather than risking a dash across the blacktop.
Forrest Hammond, a biologist with the Vermont Fish and Wildlife Department, describes the project as "cooperative work between wildlife biologists and transportation engineers to maintain natural crossings." The bridge is now the focus of an ongoing study, conducted through the University of Massachusetts at Amherst, that monitors how animals utilize the new crossing. Remote cameras are hidden in the area, and track pads - lines of sand that span the length of the bridge so that all animals that cross have to walk through them - have been installed. The results of the study should help fine-tune the design of future wildlife-crossing bridges.
The Vermont Fish and Wildlife Department is also creating a database of places across the state where animals frequently cross roadways. Road-kill data, along with information collected from towns, regional planning commissions, and highway maintenance staff, identify the wildlife hot spots. Engineers at the state's Agency of Transportation will be able to check the records in the database when considering new road construction or maintenance. "If you have the data when a new project is proposed, that's when it is most cost-effective to do something to make a road less ecologically damaging," says Hammond.
Across the Connecticut River in New Hampshire, a partnership between the departments of Fish and Game, Environmental Services, and Transportation created three wildlife-specific passageways under Route 111 in Rockingham County. "There's a large bridge spanning a stream and wetland complex, a smaller bridge for a small stream and terrestrial animal crossing, and a small culvert to allow salamanders and small mammals to cross under the roadway," says Catherine Goodman, senior environmental manager for the Department of Transportation. The partnership monitors the crossings to gauge their effectiveness.
New Hampshire officials are also looking at new culvert designs that allow fish to pass more easily under a road along with the water. Goodman hopes that these designs may be incorporated into wetland permits issued during the road-building process.
Both states are working to educate their transportation staff about wildlife-crossing issues by arranging field study opportunities. "Basically, we take transportation professionals out in the field and talk about why connectivity and habitat is important," says Chris Slesar, VTrans Environmental Specialist for the Southwest Region. New Hampshire held a similar training last year and plans to hold one this year as well. Slesar believes that the training will create a "culture change" within the transportation staff so that the ecology of an area and its associated wildlife species are taken into account when projects are proposed.
In Vermont, more than 4,000 deer and up to 200 moose are killed annually on roads, according to the Fish and Wildlife Department. In 2005, the New Hampshire Department of Fish and Game tallied 1,200 deer-car collisions and more than 200 moose-car collisions. Smaller animals - squirrels, skunks, fishers, salamanders, birds, and frogs - are killed on the roads in large numbers without being accounted for. "In Vermont, our roads were put in without much consideration for wildlife at all," states Hammond.
The key to changing that, emphasizes New Hampshire's Goodman, is through research and testing of different methods to prevent vehicle-animal collisions. "The type of geography you have, what types of animals use the area, how urbanized the area is, what types of roadways are there, how much funding is available for the project, and numerous other site-specific issues" affect whether a bridge, culvert, or underpass will be most appropriate in a particular area, she said.
Not only do collisions with wildlife cause ecological damage but also they are responsible for more than 200 motorist deaths annually across the U.S. According to Slesar, the issue merits the attention of environmental and transportation groups because it is "both a safety and an ecological issue that is facing departments of transportation throughout the country."
Luckily for people, and animals, in New Hampshire and Vermont, transportation and environmental officials are making it safer for everyone to get where they need to go.
Carrie Chandler works for Northern Woodlands magazine in Corinth, Vermont.