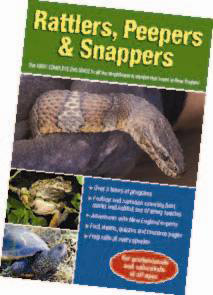 Available for purchase at Peregrine Productions
For years, birders have had a wide variety of multimedia educational tools to help them learn bird identification and natural history. Beginning with cassette and VHS tapes, to CDs,
CD-ROMs, DVDs, and interactive websites, the choices seem endless. But for naturalists and aspiring herpetologists interested in learning about New England reptiles and amphibians, the options were limited to a few audio CDs, field guides, and websites. With the release of Rattlers, Peepers & Snappers, that has changed.
Vermont cinematographer Vince Franke, of Peregrine Productions, and herpetologist Jim Andrews teamed up to produce this three-hour DVD that is chock full of information covering all 52 species of reptiles and amphibians breeding in the six New England states. Designed for natural resource professionals, naturalists, teachers, and students, the disc is divided into two parts: a reptile program and an amphibian program. In addition, a two-minute segment on taxonomy, as well as a two-minute looping video montage complete with a clawhammer banjo soundtrack, can also be viewed from the main menu.
Both the reptile and amphibian program menus provide additional choices, including Species Information and Video (one- to two-minute segments on each of the 52 herp species, focusing on their identification, natural history, and conservation status); a Species Identification Quiz (the frog section includes both visual and audio quizzes); and Field
Adventures, which are hosted by a variety of New England experts.
The field adventure segments, ranging from three to seven minutes in length, can be viewed together as a single program or selected individually from a menu. The viewer accompanies field biologists, herpetologists, and researchers as they conduct field work in swamps, marshes, forests, and powerline corridors. The amphibian Field Adventures has five segments, including a program on vernal pool conservation with Aram Calhoun, one of New England's leading wetland ecologists, and a visit with a University of Maine researcher who uses radio telemetry to study the effects of forestry on wood frogs. The reptile section has nine segments, including programs on box turtle research in Massachusetts, timber rattlesnake tracking in Vermont with Alcott Smith, experimenting with tunnel designs that will enable turtles to cross roads safely, and finding worm snakes with Tom Tyning. These adventures are compelling and personal.
The videography is outstanding throughout. Whether shot in daylight or at night, the close-ups are sharp and clear, and the animals are shown in their habitat as well as occasionally in the hand. The narrative is informative and conversational, only rarely sounding scripted. My only objection, and a minor one, is that in the visual frog quiz, one frog is shown at an angle that precludes the viewer from seeing field marks to determine whether it is a northern leopard or a pickerel frog.
I watched the DVD with my 13-year old daughter, Mollie, who really enjoyed the intimate footage of calling frogs. In fact, she was so enthralled that she watched the entire disc and took all the quizzes before realizing that she'd missed the one TV show she was planning to watch that evening.