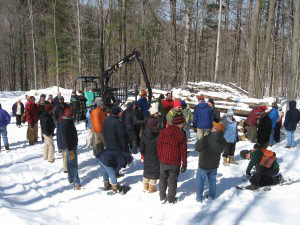 At the 2007 Vermont Town Forest Project summit, participants gathered together to discuss forest management in the Hinesburg town forest. Photo by Anne Margolis.
Human history is peppered with movements. There were the big ones: abolition, civil rights, suffrage, environmental protection. And then there were the myriad little ones, which together have brought about equally big shifts in thinking. Many of these lately have focused on the concept of sustainability in food production: the localvore, slow food, and organic movements all come to mind.
Food is one of our basic needs, so it makes sense that many of these movements focus on it. No less essential to society, however, are other goods and services, which small groups of people in communities across the nation are trying to encourage with "buy local" campaigns. It makes sense that our other basic needs – water and shelter – can also be met locally.
That's the basic premise behind the Vermont Town Forest Project, which was founded by the Northern Forest Alliance in 2004 "to help communities across Vermont maximize the community benefits derived from their town forests and to help support the creation of new town forests statewide."
These benefits include everything from watershed protection, forest products, and wildlife habitat to public recreation and community rallying points. They function in the same way town commons have for centuries in New England and New York. Every community member is responsible for their stewardship, and every member also benefits from their presence.
The concept of town commons, and even town forests, is not a new one. In fact, the enabling legislation for creating town forests in Vermont was enacted in 1915. But these forests haven't been on the top of everyone's mind. At least until lately. Now, thanks to projects such as the Vermont Town Forest Project, they are experiencing an exciting revival.
The excitement was palpable this spring at the Vermont Town Forest Project's third annual summit, held in Hinesburg. Hinesburg is fortunate to own not one but two town forests: the "older" (it dates to 1940), composed of 837 acres of mixed woodlands, and the "newer" (just purchased), with 301 acres boasting extensive wetlands and calcium-rich soils.
Hinesburg's forests exemplify town forest potential. They have recreation: world-class mountain biking trails, along with skiing, hiking, and horseback riding. They also serve as outdoor classrooms, both for local teachers and for the University of Vermont, whose students have conducted dozens of projects there.
And the older forest also has active forest management: one recent harvest took out white ash, which was then milled and kiln-dried locally and installed to replace the floor of the Hinesburg Town Hall, which had been sanded so many times that the tongue of each tongue-and-groove board was exposed. All this at a total cost of $2.48 per square foot, about what you'd pay commercially.
The great thing is, Hinesburg is only one of many Vermont communities with town forests. Some towns have had forests for years, while others are just now acquiring them – a task made easier by the assistance provided by the Vermont Town Forest Project and the federal Community Forest and Open Space Conservation Program, which will provide 50-50 matching grants for towns to acquire town forests.
The momentum is building. Old town forests are being looked at in a new light – as providers of essential ecosystem services, as outdoor classrooms, as places of solace and recreational pursuits, and as providers of locally sourced wood products. New town forests are popping up all over the place, including the Brushwood Community Forest in West Fairlee, which has been designated top priority for federal Forest Legacy Program funding in Vermont.
Town forests are reminders of a time of town commons, poor farms, and public lots – when people collaborated on stewardship, made decisions as a group, and reaped the rewards of all that work together. That kind of model doesn't have to fade into the landscape like an old stone wall. It just needs a renewal – board for board, like an old town hall floor, replaced with thought and care, each board a piece of a tree that was just an eager seedling when the original floor was laid down.
Learn more by reading the Town Forest Stewardship Guide for communities. More information about urban and community forestry is also available at the Vermont Division of Forestry.
Click here for an update on the Vermont Town Forest Project.