The United Nations has coined 2010 to be The International Year of Biodiversity, so it's only fitting that insects play a starring role in the pages of our summer issue. Insects, after all, are the most abundant animals on earth. While some species can be overlooked, due to their small size or out-of-the-way lifestyles, butterflies and caterpillars cannot. These veritable pop stars of the insect world – dolled up in coiffed hair tufts and shimmering wing scales – simply demand attention.
As any third-grader will tell you, Lepidoptera – the order of insects that includes butterflies and caterpillars – represent peak evolution in the cool-animal department. Sure, dogs and cats are great, but to even compete for the crown, Fido would have to shed his skin five or six times, then void his bowels, fashion himself a cocoon, digest his larval tissues and organs, and reemerge from the cocoon a few weeks later as a giant bird.
While the image of literal mammalian metamorphosis is silly, a philosophical interpretation is not. The human concept of redemption – this idea that we can change for the better – can be read into the caterpillar-to-butterfly progression. It's no coincidence, then, that humans are attracted to butterfly totems, to tattoos and bejeweled winged amulets that rest against caterpillar-silk blouses. It's no coincidence, then, that Hollywood filmmakers make hay here in the light version of human metamorphosis – the streetwalker-gone-good motif – and the dark side – the soul of great beauty who, like a butterfly, just can't bring him- or herself to fly straight.
The influence that butterflies/caterpillars have on humans goes far beyond art and philosophy. In the world of raw economics, butterfly collectors still pay hundreds, if not thousands, of dollars for rare specimens. Farmers and foresters engage in epic battles with tree- and plant-munching larvae. One degree separate, but no less influential, is our human dependence on the relationship between caterpillars and plants. The aspirin you take for headaches is derived from salicylic acid, a plant compound that's produced to thwart caterpillars. The coffee you may be drinking as you read this takes its bitter flavor from the same.
Back to square one now, the basic question that confronts every amateur naturalist when they gaze upon a caterpillar is: what kind of butterfly or moth will this become? You may know what a woolly bear looks like, but how about an Isabella tiger moth – the woolly bear's adult form? Secondary questions include, what kind of food do they eat? And are they harmful if I touch them?
To answer these questions, we enlisted the help of photographer Gerry Lemmo and compiled photos of some of the most common caterpillars, and their subsequent butterflies or moths, that you'll find in the Northeast. For more advanced studies, we'd suggest David L. Wagner's Caterpillars of Eastern North America – an exceptional field guide – and Butterflies of the East Coast; An Observer's Guide, by Rick Cech and Guy Tudor.
American Lady, Vanessa virginiensis
Description: Caterpillars vary in color, but the red bases of the hair tufts are usually a giveaway. Butterfly wingspan: 1¾–25/8 inches.
Ecology: American lady caterpillars are solitary creatures that feed in nests made out of silktied leaves. Favored fare includes pussytoes, ironweed, burdock, and plants in the sunflower family. Butterflies inhabit open places and are especially fond of aster, goldenrod, milkweed, and vetch.
Random Cool Fact: Like other "brush-footed" butterflies in the family Nymphalidae, American ladies have taste receptors on their feet that let them sample the flavor of a plant just by walking on it.
Black Swallowtail, Papilio polyxenes
Description: Larvae change dramatically with each molt; they start off looking like bird droppings and end up looking like the caterpillar pictured here. Butterfly wingspan: 1¾–25/8 inches. The butterfly pictured here is a female – males have less of that shimmering blue coloration and a more extensive yellow band.
Ecology: Caterpillars eat plants in the carrot family – look for them in the garden on dill, parsley, and fennel; in the wild, check out Queen Anne's lace and poison parsnip. Black swallowtail butterflies eat nectar and, in an aesthetic irony, are attracted to mud and manure piles. They flourish around humans and open spaces; they're declining as Northeastern farmland reverts back to forest.
Random Cool Fact: Caterpillars have retractable horns that emerge from a slit just behind their head when they're alarmed.
Cecropia Moth, Hyalophora cecropia
Description: Sci-fi-looking caterpillars are frosted green and covered in shiny yellow, orange, and blue knobs. Moths are giant, with wingspans of 4¾–6 inches.
Ecology: Caterpillars eat many woody plants, including ash, apple, and box elder. Moths fly from April to July and are attracted to lights or, perhaps more accurately, are attracted to the darkness around bright lights.
Random Cool Fact: To pupate, a cecropia caterpillar folds itself into a leaf and secures its hideout with about a mile of silk.
Random Sad Fact: Native silk moths are all in decline – collateral damage in our war against the gypsy moth. When well-meaning but misguided scientists released tachinid flies in 1906 to kill gypsy moths, they didn't count on the parasite having indiscriminate taste. Cecropias seem especially hard hit – in one Massachusetts study, 81 percent of lab-raised caterpillars that were released into the wild were parasitized by this exotic fly.
Luna Moth, Actias luna
Description: While beauty is subjective, most entomologists would be hard pressed to name an insect more beautiful than the luna moth. Larvae are lime green with faint pink spots and a pale stripe along the abdomen. Moths are otherworldly green with fern-frond antennae and pink, burgundy, white, and black eyespots. Wingspan can be wider than 4½ inches.
Ecology: Caterpillars eat a variety of tree leaves, including those of paper birch, sweet gum, hickory, and sumac. Adults live for about a week and don't eat – their only purpose is to reproduce.
Random Cool Fact: Moth and butterfly wings are covered in thousands of wing scales, essentially flattened versions of insect hair. (Lepidoptera means "scaly winged."). Lower inset photograph shows a close-up of the wing scales in a Luna moth eyespot.
Monarch, Danaus plexippus
Description: Look for these tiger-striped caterpillars on milkweed; the orange butterfly features a classic black-vein and white-dot pattern. Wingspan: 3½–4½ inch.
Ecology: Each fall, Northeastern monarchs undertake an epic migration south, where the entire population winters in a relatively small patch of forest in south-central Mexico. In spring, they move north, laying eggs and dying as they go. The monarchs you see this summer in northern Maine could be the fourth generation offspring of the monarch that flew south to Mexico last fall. All of this suggests that there must be a genetic component to the migration, since no individual butterfly makes the journey twice.
Random Cool Fact: The migration story wasn't cool enough for you? OK, how about the fact that caterpillars sequester cardiac glycosides (i.e., poison) from the milkweed leaves they eat, concentrate it, and carry it forward into their chrysalis and adult stages. This makes them unpalatable to most birds.
Mourning Cloak, Nymphalis antiopa
Description: This spiny, black-and-red caterpillar cannot be confused with any other. When you see it, don't touch it; the hairs break and release noxious chemicals that can cause nasty rashes. Butterflies have a wingspan of around 3 inches and are almost always the first butterflies encountered each spring.
Ecology: Caterpillars stay together upon hatching and can defoliate whole branches of poplar or willow trees. Butterflies go through a period of dormancy in summer, then re-emerge briefly in fall before finding a comfortable spot and hibernating through winter. In spring, look for them sipping sap at sapsucker holes.
Random Cool Fact: Mourning cloaks are our longest-lived butterfly – some individuals survive a whole year.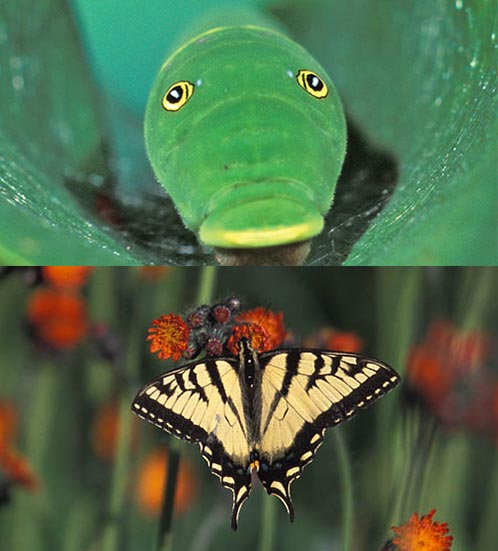 Eastern Tiger Swallowtail, Papilio glaucus
Description: Newly hatched eastern tiger swallowtail caterpillars are bird-dropping mimics. The last larval stage, seen here, has smallish eyespots that make it look like a tiny, nearsighted snake. Butterflies have 4½ inch wingspans and vary in color. Females can be yellow, like the one pictured here, but there's also a black color phase.
Ecology: Caterpillars feed on black cherry, birch, ash, willow, cottonwood, and tuliptree. Butterflies take nectar and are often found in edge habitat, especially swamp edges.
Random Cool Fact: Eastern tiger swallowtails butterflies, and many other butterfly species, are often seen congregating at puddles on dirt roads. What they're doing is eating the salt and minerals that have dissolved in the water. If there are no puddles, they still may gather on open dirt to regurgitate into the soil and slurp up nutrients this way.
White-Marked Tussock Moth, Orygia leucostigma
Description: The caterpillar is 1–1½ inches long, with a bright red head and four white to yellowish brush-like tufts of hairs on the back. Female moths, like the one pictured here, are wingless and therefore flightless. Males are medium-sized brown moths with a single dot on the forewing.
Ecology: One of our most ubiquitous caterpillars, the white-marked tussock could turn up on virtually any plant in the Northeast. A member of the Arctiidae family.
Random Cool Fact: Some male Arctiid moths sequester pyrrolizidine alkaloids (PA) from plants and use them as a defense mechanism. They can then sexually transmit this protection to a female mate. One study showed that a PA-deficient female becomes unpalatable to spiders almost immediately after copulation and that this unpalatability endures throughout her life.
European Skipper, Thymelicus lineola
Description: Green caterpillar can be distinguished from other grass skippers by the whitish lines that run the length of the body. Tiny orange butterflies are found in orchards and unmowed hay fields.
Ecology: European skippers overwinter as eggs. Caterpillars are private, feeding at night and sleeping through the day in silken leaf shelters. Butterfly is one of the most common in the Northeast.
Isabella Tiger Moth, Pyrrharctia Isabella
Description: The woolly bear is a fuzzy, orange and black caterpillar that becomes a dull, yellow to orange moth with a fat, furry thorax and a small head.
Ecology: One of our most familiar caterpillars, woolly bears are renowned wanderers. They hatch from eggs in fall and are often seen crossing roads, a strange fact, considering they eat almost everything. Look for them overwintering in your wood pile. In spring, they gorge themselves, then molt into Isabella tiger moths.
Snowberry Clearwing, Hemaris diffinis
Description: Simple, run-of-the-mill caterpillar becomes one of the Northeast's most striking moths. Moths have fat, furry bodies and wings with clear windows in them (wingspan equals 1½–2 inches). They're fast-moving and hover at flowers; as such, they're often mistaken for tiny hummingbirds or giant bumblebees.
Ecology: Caterpillars feed on hawthorn, honeysuckle, snowberry, and viburnum. Moths like phlox, buddleia, and deep-throated flowers.
Gerry Lemmo is a professional freelance photographer from Warren County, New York. As a teenager, he was a member of the entomological club at the American Museum of Natural History.