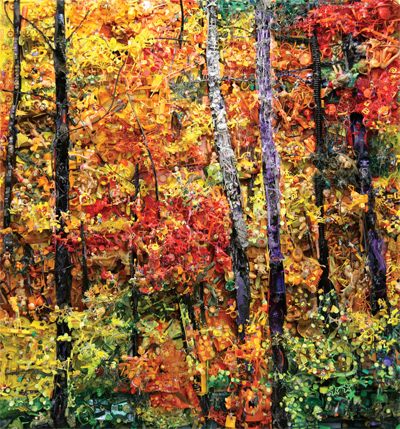 Thomas Deininger is an artist, an environmentalist, and an iconoclast. His large assemblages often fracture traditional artistic premises in an overt and seductive manner. By using decidedly untraditional materials – unrecyclable detritus – in conjunction with familiar iconography, he rattles our preconceived definitions of art and beauty.
In Vermont Foliage: Out of the Landfill into the Woods, Deininger skillfully arranges broken toys, old record albums, wires, and widgets, and creates an image that appeals to us in a comforting and familiar way. By pairing the things that we don't really care about (our disposable junk) with something we do care about deeply (the beauty of an autumn woodland), the piece raises questions about human consumerism and our effect on the natural world. Deininger feels strongly that these diametric opposites combine to form a true representation of the world we live in – an honest expression of who we are and where we live.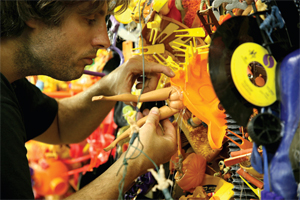 Deininger's work is serious and addresses some important environmental issues, but it is also masterful and endlessly intriguing to study. There is a message here, but the piece is not solely intended to instruct or set forth a moral observation. Autumn Foliage is full of wit, skill, and artistic energy. It redefines the term trompe l'oeil as it tricks the eye into believing that a three-dimensional image is two dimensional. Conceptually and physically, Thomas Deininger's work satisfies on many different levels.
Thomas Deininger lives and works in Bristol, Rhode Island. His work was recently featured in "The Artist as Environmentalist" exhibition at the Helen Day Art Center in Stowe, Vermont. His paintings, assemblages, and video work can be seen on his website: www.tomdeiningerart.com.