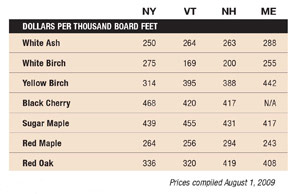 These prices are for #1 hardwood logs, at least 8 feet long, with three clear faces and a minimum 12-inch top diameter. In the timber world, this is a log of average quality, not a prime sawlog and not a poor one.
Landowners should remember that the dollar amount here indicates what is being paid for logs that have been felled, limbed, skidded, bucked, and delivered to a mill or buyer. The cost of logging and trucking need to be subtracted from these figures to arrive at the price paid to the landowner. Because every job is different, these costs vary widely.
Negotiating a fair price requires an understanding of markets and job conditions. It's recommended that landowners without this knowledge use a forester as an agent. A forester's fee will add to the cost, but their representation will often result in a higher payment for the timber.
These data are compiled from interviews with suppliers and buyers, and from the most recent print and on-line versions of the Sawlog Bulletin and used by permission. For more information on the Sawlog Bulletin, call 603-444-2549 or go to sawlogbulletin.org. Please note that many of these prices were reported three months prior to our publication date, and current prices could be higher or lower.
Over the past decade, hardwood prices scaled the heights and plumbed the depths, but the prices paid for beech sawlogs remained remarkably steady. Does this mean that beech was a safe bet in a period of market turmoil?
Not exactly – more like a penny stock. The number of people buying and selling beech sawlogs has always been lower than the number buying and selling the other seven hardwoods we track in Northern Woodlands, mostly because beech is not highly prized for woodworking. It has a reputation for being difficult to dry properly, causing splitting and warping. But in recent decades, the tightening grip of beech bark disease has compromised the supply of beech logs. In short, the price has been stable because the market is gone.
This is not to say that there aren't beautiful beech logs to be had or interested parties willing to acquire them: some woodworkers love this wood. Just that, with fewer of these transactions taking place, especially on a commercial scale, the concept of a regional price for beech doesn't make much sense anymore. Starting with the Summer 2009 issue, we've "de-listed" beech and stopped tracking it in our quarterly mill prices.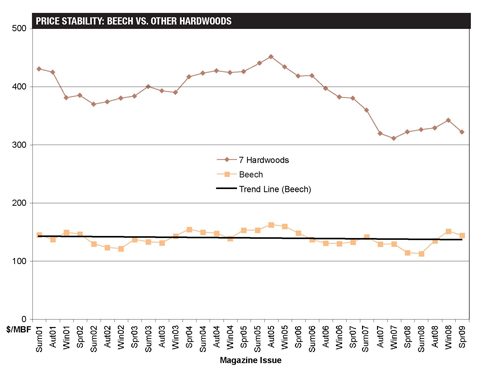 Correction:

On our Mill Prices page in the Summer 2009 issue, we presented a chart showing the sawlog value of red maple versus sugar maple. Our caption suggested that the dollar amounts on the left-hand axis showed the price paid to landowners. Of course, these figures, and all the figures on the mill prices page, reflect what mills and buyers pay for logs. The cost of logging and trucking needs to be subtracted from the figure to arrive at the actual dollar amount a landowner might receive for his or her wood. We apologize for our mistake.