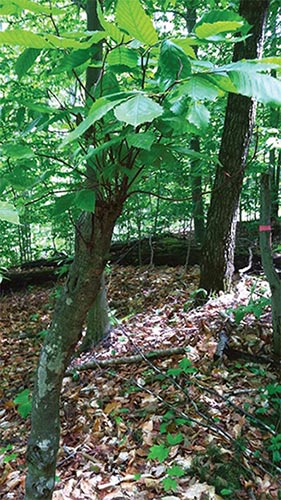 The crown of this young beech tree has been pollarded, allowing it to be used as a living fencepost without worry of falling branches. Photos by Brett R. McLeod.
Fenceposts have always baffled me. Why would anyone take a perfectly good tree, cut it down, dig a hole to set it in, and then spend the next 20 years watching it decay? In my early days of agroforestry work in the tropics, it was assumed that all fenceposts should be living as a hedge against termites and decay.
To be fair, farmers in the Northeast have long used trees as fenceposts, much to the chagrin of the sawyers (and loggers and firewood cutters) who discovered embedded fence hardware decades later. In fact, the common and haphazard approach of stapling a spool of barbed wire to trees at the edge of the pasture is partly to blame for the dismissal of living fenceposts as an appropriate fencing option. Fortunately, a couple of tricks can help to ensure both the health of the tree and a long-lasting fence.
To prevent your fence hardware from being consumed as the tree grows, you can attach a pressure-treated board to the trunk of your living fencepost using either ring-shank galvanized nails or polymer-coated deck screws, and then attach your fence hardware to the board. As the tree grows it will push against the board instead of growing around your fence hardware.
Another common concern with using living fencepost is that you're inviting branches to fall on the fence. In Europe, this is addressed by pollarding, or aggressively pruning the crown of the tree to keep it low and small. While many arborists shudder at the thought of pollarding a tree, I have seen pollarded fencepost trees in Europe that are more than 100 years old. The tops of these trees are trimmed every couple of years, with the young shoots (known as pollard hay) used as livestock fodder.
Finally, it goes without saying that you should avoid nailing or screwing any sort of hardware into a tree that might someday become lumber. Not only does it create a potential safety hazard, it also generates a wound that can promote decay and jeopardize the value of the log. On the other hand, using undesirable trees with poor form can serve as an inexpensive, effective, and long-lasting living fencepost option.
Brett R. McLeod is an associate professor of Forestry & Natural Resources at Paul Smith's College and the author of The Woodland Homestead (Storey Publishing), available summer 2015.