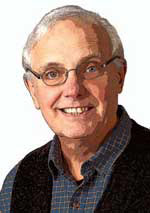 These are difficult times for families and businesses in our region: for loggers and mill workers, for land trusts and small business owners, for educators and small not-for-profit publishers in little towns like Corinth, Vermont – population 1,435. And so it humbles me to report that despite the hard times, our readership is growing, our advertisers remain faithful, and our donations, while down in number, have increased in total dollar amount. That's encouraging news as we transition to a new fiscal year and assess Northern Woodlands' organizational landscape.
The pie chart below shows the key sources of income that keep the magazines coming to your mailbox and the lights on in the Northern Woodlands office. You'll see that your subscriptions are the single most important segment; this year's subscription revenues exceeded $227,000. That's about 4 percent more than last year, though newsstand sales have stayed flat and sales through distributors have dropped as many bookstores struggle to remain open. Our advertising revenues peaked in the salad days of the economy between 2005 and 2008. But, like subscriptions, we edged up over last year by 3.8 percent. This speaks more about the loyalty of our advertisers than it does economic trends. It also speaks to your loyalty as consumers: when you support our advertisers, you support Northern Woodlands. Our donors were particularly generous last year. While the number of donors dropped by 7 percent, there was an increase in the total dollar amount of contributions – some 5.5 percent. It is worth noting that the Board of Directors' giving grew 15 percent over the previous year, exceeding a budget goal of $25,000. Collectively, individual donors gave just under $180,000. You can find a list of all who contributed on page 68.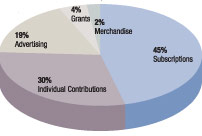 You truly rose to the occasion this year. Thank you. And thanks, too, for remembering us in your year-end giving this holiday season. I hope that this issue of Northern Woodlands will serve as a tangible reminder of how well we've put your past contributions to good use.
Season's greetings from all of us at Northern Woodlands!