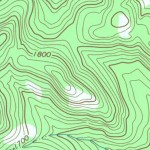 Every acre contains the same measure of land regardless of whether it is steep, bowl-shaped, or the Great Plains. This is due to long-standing conventions of land surveying and accepted procedures for determining ownership boundaries. There is definitely a catch, however, in that not every measured acre contains the same amount of ground surface. In other words, you'd need a bigger quilt to cover an acre of Vermont than you'd need to cover an acre of Kansas.
But they don't measure an acre by measuring the size of the quilt needed to cover it. An acre is a two-dimensional measure of land area. Originally, it was the amount of land that could be plowed by a team of oxen in a day. In fact, the acre had specific dimensions because of this. It was a rectangle, whose length was determined by the distance the oxen could plow before needing a rest. This furrow-long distance became the furlong, which was equal to 40 King's rods (660 feet to commoners like us). That determined the long side of the rectangle, and the short side of this one-acre rectangle was 4 rods (66 feet). Multiply these to get 43,560 square feet of area.
Still today, an acre is fixed at 43,560 square feet. If a particular one-acre parcel happens to be in the shape of a perfect square, its sides would be 208.71 feet each. But an acre need not be square. It is fixed at 43,560 square feet but has no specific length, width, or shape. The number and length of its sides can be anything, just so long as the total area they bound equals 43,560 square feet. If you wanted to create a one-acre rectangular parcel of land with one side a mile long, then it would be 8.25 feet wide.
Whatever the shape of a parcel – or the topography of the land it contains – surveyors calculate its acreage based on a common surface, using basic geometry (whose Greek root words mean earth measure). And while it is possible to account for the curvature of the earth in land surveying, most boundary surveys for parcels less than a few hundred square miles use plane surveying. That is, the portion of the earth being measured is considered a horizontal plane.
By convention, then, land area is measured on a two-dimensional common surface plane projected onto the ground. So even in hilly terrain, the acre is measured as if the hill were cut off at the horizontal, parallel to the horizon. In practice, this means that property boundary lines are not measured as the true ground distance between two points on the ground, be they iron rods, stone bounds, or rock piles. Instead, boundary lines are typically measured as the horizontal distance between those two points. In the woods, if you measure distance along the sloped surface, you can either hold the tape horizontal at all times when recording distances or measure the slope distance and angle and then later apply a correction to reduce this slope distance to the horizontal distance.
Because the sloped line that runs along steep ground is longer than a horizontal line above the ground between the same two points, an acre of hilly land does have greater surface area than would an acre of flat land. For instance, a hypothetical acre that had a uniform 15 percent slope would have approximately 1.12 percent more surface area and would require a quilt that measured 44,047.8 square feet. Does this mean that the sloped land will have more trees or wood volume per acre, because it has more surface, and trees grow on the surface?
Maybe. If greater slopes have greater surface area per acre, it stands to reason that an acre of decent forest soil on a moderate slope would contain more trees and produce greater yields per acre than a similar acre of flat forest. This would make even more sense if tree establishment and growth were driven only by surface-related factors. But other factors are also at work, and tree growth is driven – and often limited – by sunlight and precipitation.
Perhaps the more important feature of sloping land is the direction it faces – its aspect or orientation – because that influences the amount of sunlight the acre receives. This, in turn, indirectly governs other related factors such as air and soil temperature, precipitation, and soil moisture – all of which are important for the establishment and growth of plants. So as land is measured, an acre on a hill would be the same size as, but would have more surface area than, a flat acre. But surface area alone does not determine which acre would have more trees.
Michael Snyder is the Chittenden (Vermont) County Forester.