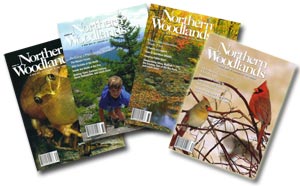 Domestic Rates:
1 year for $23.00
2 years for $42.00
3 years for $59.00
(Foreign addresses, please add $7.50 extra per year.)
Subscriptions to Northern Woodlands magazine include a digital edition as well as a print copy. Include your email with your order to ensure electronic delivery.
Current Subscribers Only: SCROLL DOWN to the bottom of this page to enter your email address if we do not have it on file.
Holders of special codes and promotions must enter them on the first order page when subscribing to realize those different rates. They can't be processed retroactively.
(For customers new to Northern Woodlands only.)
(For new and existing customers to give Northern Woodlands as a new gift. We will send the recipient a gift card in your name and the current issue of the magazine will follow within ten days. Please be sure to include your contact information under the Billing heading and the recipient's contact information under the Shipping heading. If you have a holiday gift offer promotional code, please be sure to enter it for each new gift. This link is for brand new gifts only. If you are renewing a gift, please use one of the links below.)
(For existing customers to use to renew their order or an existing gift order.)
(For existing customers to use when they've received a special code. The code must be entered using this link.)
(For existing customers to use for reference.)

.(JavaScript must be enabled to view this email address)