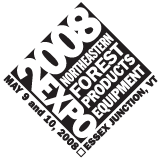 Back when we started Northern Woodlands (as Vermont Woodlands in 1994), we hardly knew what we were getting in for as far as the business end of it goes. If you had told me I would be going to trade shows and hawking the magazine and all of our other stuff, I would have said you were nuts. And I certainly wouldn't have expected that I would enjoy doing it.
Well, we're off to the Northeastern Forest Products Equipment Exposition Friday and Saturday in Essex Junction, Vermont, and I have to say it's my favorite show of the year. It's a great show, well run by the Northeastern Loggers Association. Thousands of people come through, many of them already avid readers of Northern Woodlands, and we love to chat with them and get to know our readers. On breaks, I walk around and get a chance to visit with some of our advertisers and people who have supported our efforts for years.
You don't have to be in the market for a feller-buncher to enjoy the show. Maybe what you're after is a pruning saw or some wedges for help with your directional felling. You'll find it there. And you'll find everything else that has anything to do with working in the woods. And who knows, you might just decide that you need a portable sawmill or a tractor with a logging winch. Go ahead. Come kick some tires. I hope to see you there!