Northern Woodlands Tech Expert Presents the Winning Entries.
This April, as part of Northern Woodlands' spring fundraising effort, we published a quiz with nine mystery photos and challenged readers to identify any three of them in a line (à la tic-tac-toe) in order to qualify for a prize drawing.
We're pleased to announce that Ron Benoit and Lynn Sheldon/Dan Hudnut are our two winners, selected by Northern Woodlands Technology Expert through an extensive and scrupulously fair process.
Congratulations! The winners will each receive a box of Northern Woodlands' Bird Note Cards, featuring excerpts from "The Outside Story" ecology essay series, illustrated by Adelaide Tyrol.
So what were the correct answers? See how you scored.
Birdseye figure in a maple log.
Bloodroot, an early spring wildflower.
GPS screen used onboard a feller buncher. We were lenient in our scoring for this one. "Wit Wit" devotees may remember this photo from our on-line biweekly guessing game.
Luna moth. These beautiful creatures are in the air now, completing their life cycles by mating and laying eggs. The magazine recently featured an article on Lucy Golden, a woman who raises lunas and other giant silk moths.
Filter press. We accepted any description of this gadget's purpose: filtering out sugar sand and other grit from maple syrup.
Moose. This cow moose was spotted in Strafford, Vermont, dining on aquatic plants. Note: an "Outside Story" article on moose noses (how they seal out water) will run in the first week of July. Look for it on our website June 30th.
Porcupine chew marks.
Spring peeper. You can listen to one here.
Black-tipped darner. These big, vividly colored dragonflies are one of the mosaic darners. This time of year, you can find them around ponds, bogs, and other wet areas, especially those with acidic water.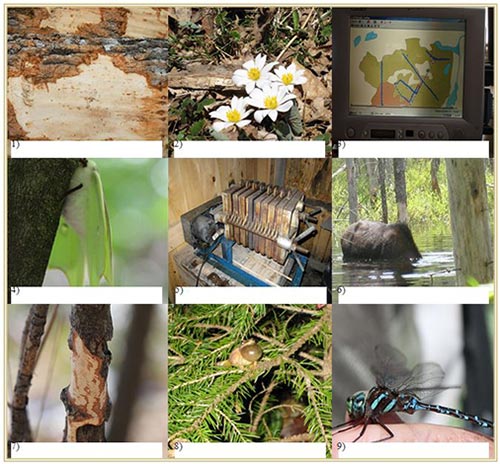 Thanks to everyone who participated!