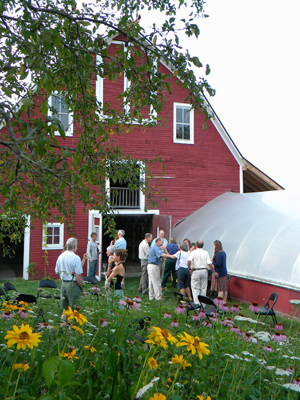 Northern Woodlands held its annual board meeting on July 20th. The day's events included a tour of the Mount Tom Forest at Marsh-Billings-Rockefeller National Historic Park, a discussion about wood certification, a primer on digital publishing, and finally, a summer celebration! Gathering on a beautiful summer evening at Associate Editor Chuck Wooster's picture perfect farm, board members and staff were joined by several dozen members of the Northern Woodlands family. Writers, photographers, artists, donors had a chance to meet and see the faces behind the names mentioned in the magazine.
The highlight of the evening was board president Julia Emlen's presentation recognizing the talents and efforts of co-founders Steve Long and Virginia Barlow who began the magazine seventeen years ago.
For more pictures from this event check out our Facebook Photo Album!